Eat Local 2020
DDRA announces winners in summer-long Eat Local Contest
The Darlington Downtown Revitalization Association (DDRA) presented the cash prizes to winners of the Eat Local contest on Tuesday, September 8, at the City Administration Building in Darlington. Pictured from left are Wally Boatwright, Faye Dixon, and Jean Tyner.
The summer promotion encouraged shoppers to keep their dollars in Darlington and save our locally owned restaurants during the COVID-19 pandemic. Diners had to eat at 20 different places in town and submit a form to be entered into the drawing.
"The Revitalization Association is in the business of helping our businesses stay alive and thrive, especially during these challenging times," says Lisa Rock, executive director of the DDRA.
Given the social distancing restrictions limiting the DDRA's ability to host events, the Board choose to allocate some of those funds towards the Eat Local contest to support our locally owned restaurants.
"Restaurants seemed a natural avenue to focus our efforts because they were so hard-hit when dine-in was not allowed. The object was to expand everyone's horizons a little, to see all the options that are in town," says Rock. "Several people said they didn't even realize there were more than 30 restaurants in Darlington. The contest also forced participants to stop in at different spots, not just their usual hang-outs."
Thank you to everyone who participated! Let's keep it up and keep our dollars flowing in our local economy.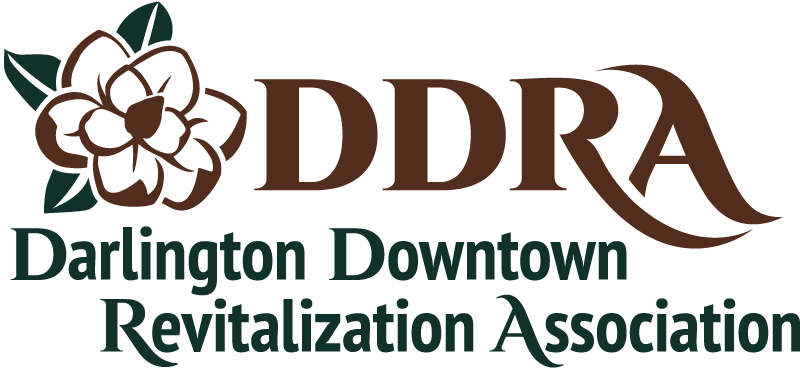 Eat Local 2020 Rules
The brochures are available to print out here and from Facebook as well as participating restaurants.
ENTRY: Shop at twenty (20) different Darlington restaurants listed on the entry form between June 1, 2020, and August 31, 2020. Send copies of your completed entry form, which includes your name, phone number, and email address, to DDRA, P.O. Box 57, Darlington, SC 29540. Entries must be mailed by June 30, July 31, and Aug. 31 for each monthly drawing.
Darlington Downtown Revitalization Association is not responsible for lost or damaged mail.
You must be age 18 and older to enter.
You may make multiple entries to increase your odds of winning.
Entries from one month will roll into the next month's pot.
Purchases at DDRA-member businesses count twice towards the 20 required stops.
Entry forms can be found at area businesses, at www.facebook.com/DowntownDarlington, at www.BuildUpDarlington.org, and in The News & Press.
WINNER SELECTION: A drawing of all the qualifying entry forms received will be held by July 3, 2020; August 3, 2020; and Sept. 3, 2020. The winners will be contacted by phone and by email. Cash or check will be presented in person at a location to be determined by the DDRA for a publicity photograph.
PRIZE: Three prizes of $250 in cash or check will go to three (3) winning entrants, one drawn July 3, Aug. 3, and Sept. 3.
ELIGIBILITY: Except as otherwise prohibited herein or by applicable law, this Contest is open to any person who is eighteen (18) years of age or older.
GENERAL CONDITIONS: Contest entrants agree to abide by the terms of these Official Rules, which are final on all matters pertaining to this Contest. The prize winners will be notified within one month after drawing date.
Entrants grant to Darlington Downtown Revitalization Association the right to use and publish their proper name and photograph online, in print or in any other media in connection with the Contest. Acceptance of a prize constitutes permission for Darlington Downtown Revitalization Association to use winners' names and likeness' for advertising and promotional purposes without additional compensation unless prohibited by law. By entering, participants release and hold harmless Darlington Downtown Revitalization Association, its parents, subsidiaries, affiliates, directors, officers, employees, and agents from any and all liability for injuries, loss or damage of any kind arising from or in connection with the Contest or any prize won.
CONDUCT: Darlington Downtown Revitalization Association reserves the right at its sole discretion to disqualify any individual that tampers or attempts to tamper with the entry process or the operation of this Contest or website; violates the Official Rules; or acts in an unsportsmanlike or disruptive manner, or with intent to annoy, abuse, threaten or harass any other person. CAUTION: ANY ATTEMPT BY A CONTESTANT OR ANY OTHER INDIVIDUAL TO DELIBERATELY DAMAGE ANY WEBSITE OR UNDERMINE THE LEGITIMATE OPERATION OF THIS CONTEST IS A VIOLATION OF CRIMINAL AND CIVIL LAWS AND SHOULD SUCH AN ATTEMPT BE MADE, Darlington Downtown Revitalization Association RESERVES THE RIGHT TO SEEK DAMAGES FROM ANY SUCH CONTESTANT TO THE FULLEST EXTENT PERMITTED BY LAW.
PARTICIPATING BUSINESSES
DDRA Members (Count as two)
Dairy Bar
Hunt Bonz Deli inside Fast Track - Lamar Highway
Hunt Bonz Deli inside Fast Track - South Main
Hardee's
Nick's BBQ House
South of Pearl
Taki's Diner
Other Locally-Owned Restaurants (Count as one)
B&B Restaurant
Bay Island Seafood
Carolina Drug Store
Chianti's Wings & Things
Dominos Pizza
Fahrenheit 225
Great China
Jewel's Deluxe Restaurant
Jin Jin Chinese Restaurant
Joe's Grill
KFC
Lindbergh's Pit Cooked BBQ
Mamma Mia Italian Kitchen
Mayflower Seafood
Palmetto Subs
Race House Diner
Raceway Grill
Sarah's Porch
SC House of Wings
Sonic
Subway
Tenampa Mexican
LIMITATIONS OF LIABILITY: Darlington Downtown Revitalization Association is not responsible for any incorrect or inaccurate information, whether caused by website users or by any of the equipment or programming associated with or utilized in the Contest or by any technical or human error which may occur in the processing of submissions in the Contest. Darlington Downtown Revitalization Association assumes no responsibility for any error, omission, interruption, deletion, defect, delay in operation or transmission, communications line failure, theft or destruction or authorized access to, or alteration of, entries. Darlington Downtown Revitalization Association is not responsible for any problems or technical malfunction of any telephone network or lines, computer online systems, servers or providers, computer equipment, software, failure of email or players on account of technical problems or traffic congestion on the Internet or at any website or combination thereof, including injury or damage to participants or to any other person's computer related to or resulting from participating or downloading materials in this Contest. If, for any reason, the Contest is not capable of running as planned, including infection by computer virus, bugs, tampering, unauthorized intervention, fraud, technical failures, or other causes beyond the control of Darlington Downtown Revitalization Association which corrupt or affect the administration, security, fairness, integrity or proper conduct of this Contest, Darlington Downtown Revitalization Association reserves the right at its sole discretion to cancel, terminate, modify or suspend the Contest.
RULES REQUEST: For a copy of the Official Contest Rules, send a self-addressed, stamped envelope to: Darlington Downtown Revitalization Association, P.O. Box 57, Darlington, SC 29540. Requests must be received by August 15, 2020.
The Darlington Downtown Revitalization Association is 501c3 nonprofit organization located in Darlington, South Carolina.