Development
DDRA Improvement Incentive Program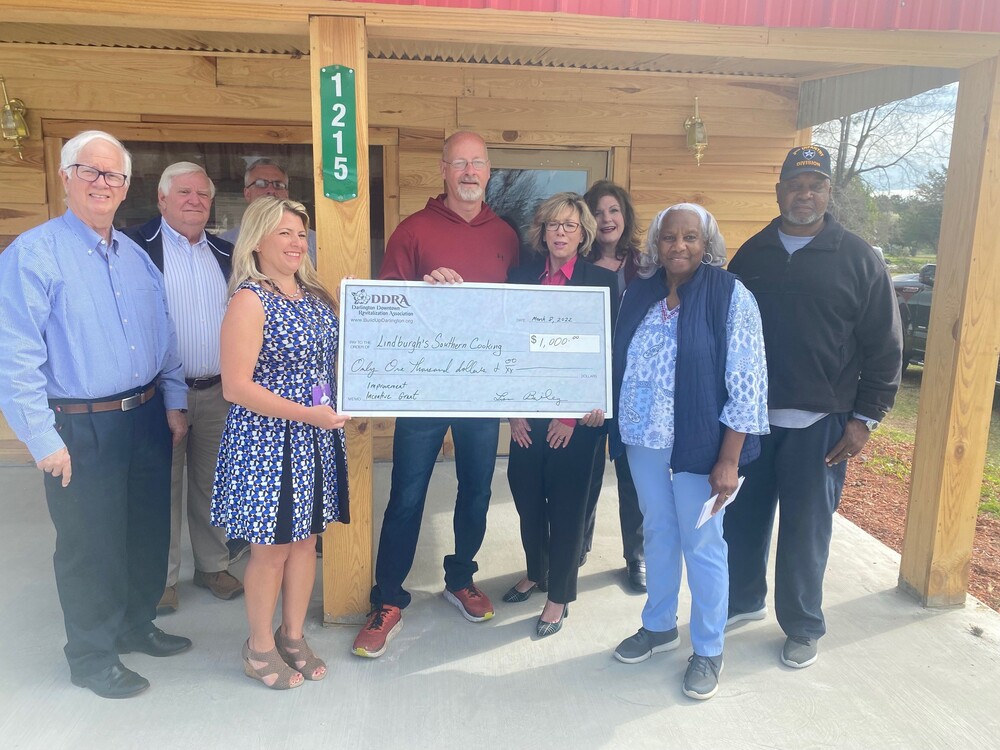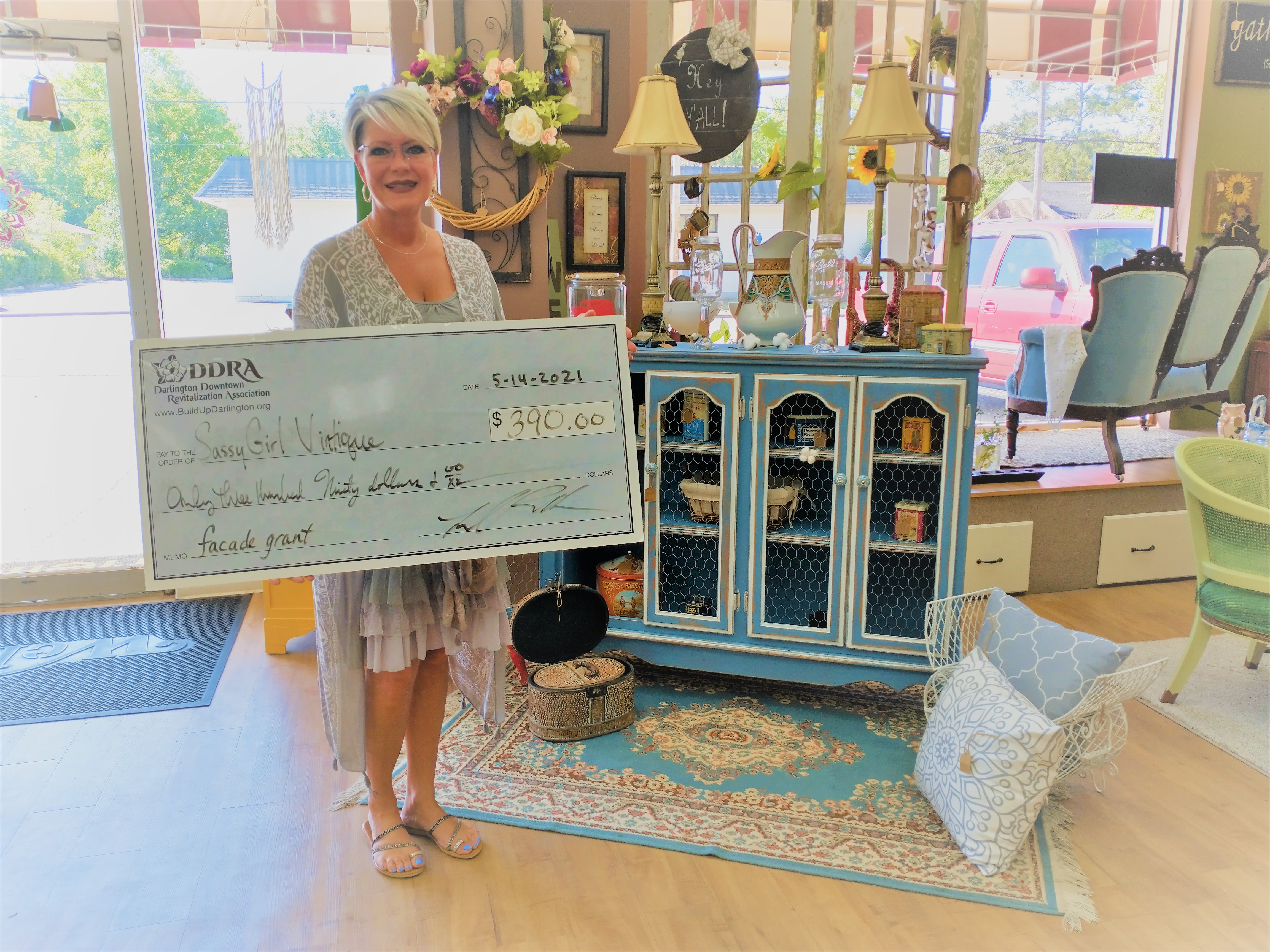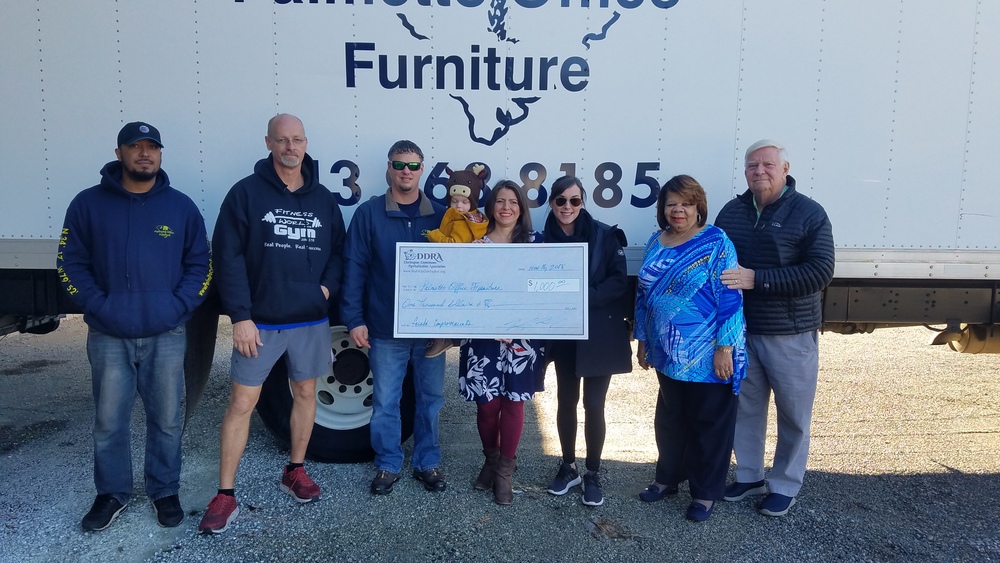 The Darlington Downtown Revitalization Association (DDRA) presented Improvement Incentive Grants, from top left, to Lindburgh's Southern Cooking at 1215 S. Main St., to Sassy Girl Vintique at 212 Pearl St., and to Palmetto Office Furniture at 308 S. Main Street.

To date, the DDRA has awarded $8,000 to local businesses, which doesn't sound like a lot, but projects connected with this program have accounted for more than $184,000 in investment in the City, not counting the domino effect of neighboring property owners sprucing up their buildings and investing in our town.
The Board of Directors has approved another $5,000 to continue the Improvement Incentive Grant Program for 2022. This is a 50-50 matching grant up to $1,000 for sign replacements, repairs, and façade improvements including things such as paint, awnings, and doors. The goal of the DDRA and its programs is to help our businesses grow, and this project does just that.
Click here to download an application.
Darlington Downtown Revitalization Association will provide up to 50% of the cost of removing or installing an approved sign up to a maximum of $1,000. Darlington Downtown Revitalization Association will provide up to 50% of the cost of exterior painting up to a maximum of $1,000.
For this grant cycle, Darlington Downtown Revitalization Association has $5,000 available for the program in 2022. Applications should be submitted by the 24th day of the month for consideration, beginning again in January.
What is encouraged
Replacement of wall-mounted signage with projecting signage.
Replacement of several advertising signs at one location with a single advertising sign.
Signs designed by a sign professional.
Replacement of worn, weathered, discolored, or out-dated signs and awnings.
Repainting of exterior buildings which show paint chipping.
Replacement or installation of awnings.
What will not be funded
Purchase of portable or temporary signs.
Signs that do not conform to the City's sign regulations and which have not been approved.
Signs and painting for businesses without current City of Darlington business licenses.
Interior painting.
Interior signage.
How to submit a request
Consult with a sign professional to design the sign that you would like to install.
If desired, consult with the City of Darlington Planning Department about whether your sign will meet regulations.
Complete the Improvement Program application. Submit the forms to Darlington Downtown Revitalization Association Director Lisa Chalian-Rock in person at 400 Pearl St., Darlington, by email at info@buildupdarlington.org, or by mail at P.O. Box 57, Darlington, SC 29540. If you lease the space where your business is located, you must include a letter from the building's owner stating that he or she consents to the submission of the funding request, and, if funded, approves of the installation of the new sign or awning.
How applications will be scored
The Board will review applications on a monthly basis until funds allocated for the program are exhausted. Preference will be given to DDRA members.
Preference will be given to local, non-chain businesses.
Upon receiving your request, Darlington Downtown Revitalization Association will
Confirm with City staff that the proposed signage and painting complies with City regulations and evaluate the application.
Determine whether grant funding is available for the application.
Darlington Downtown Revitalization Association may deny a sign grant or paint grant application that does not make recommended changes to their sign after initial review.
Every effort will be made by the DDRA to work with the applicants so that an incentive can be granted.
If your funding request is approved, you will be notified of such approval and asked to complete City of Darlington's Sign/Awning Permit application. You must also receive approval from the City's Codes Enforcement Office before work may begin.
Please remember that this grant program is a reimbursement program, which means that Darlington Downtown Revitalization Association will not disburse the grant payment to you until you provide proof that the sign company or paint company, as well as any other contractors working on the project, have been paid in full by you. All reimbursement checks will be paid to the applicant listed.