04/01/2019
Weekly Update City of Darlington
Darlington County School District will hold a part time and seasonal worker recruiting event at each of the four high schools across the district. If you need part-time help, why not give a high school student an opportunity? Reserving a booth is free, and you may recruit at any or all of our four high schools. Plan to have a representative work your business' booth on the designated date and time and plan to bring a folding table (no larger than 8' long), table cloth, a large quantity of applications, and any marketing collateral you would like to leave with the students.
Lamar High School-April 15, 11:30-12:20
Hartsville High School-April 16, 10:45-1:15
Darlington High School-April 17, 10:45-12:30
Mayo High School-April 18, 11:25-12:15
To reserve a booth, please complete the form located here or contact Quinetta M. Buterbaugh, MS, IOM, Business Engagement Coordinator, Darlington County School District, at (843) 398-3520 or quinetta.buterbaugh@darlington.k12.sc.us.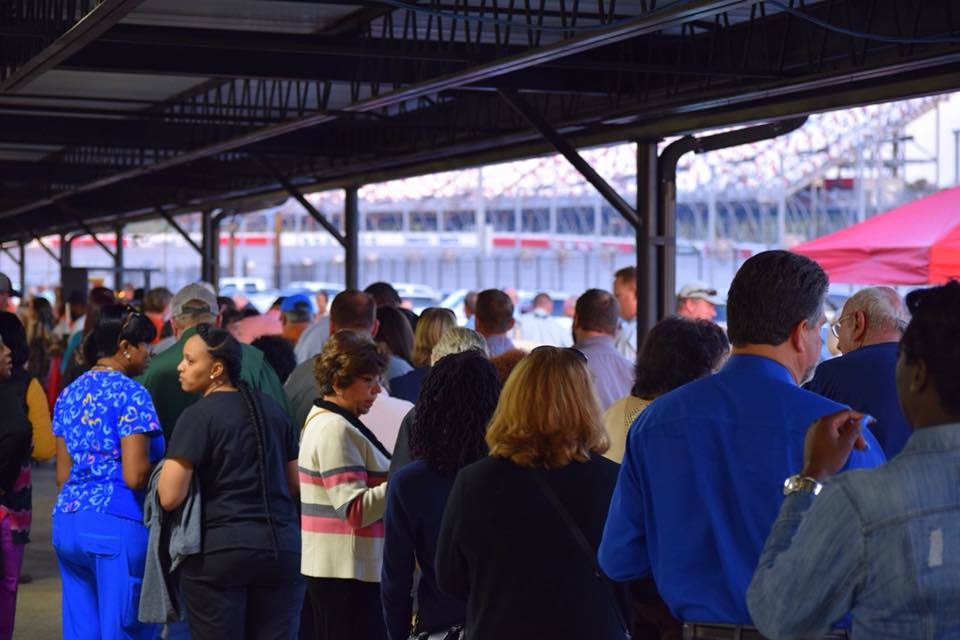 The Taste of Darlington needs grillers, cooks, table hosts, and sponsors to make this exciting social event happen on Thursday, April 11, at Darlington Raceway. Show your community support, share your favorite recipes, listen to some great music provided by DJ Carlisle Griggs, and feed your hunger for just about anything from chicken wings and pork loin to desserts and drinks. Ages 21 and older only. Tickets are $30 in advance and $35 at the gate. Advance tickets are available in Darlington at City Hall, The News and Press, Main Street Jewelers, Carolina Bank, Dedicated Community Bank, the Library, and The Jewelers Bench. Tickets are also available in Florence at The Healthy Food Store and Beef Jerky Outlet; in Hartsville at Burry Bookstore and Carolina Bank; and in Society Hill and Lamar at Carolina Bank. The Taste is sponsored by Georgia Pacific, WBTW News 13, Raceway Ford, Sonoco, Pee Dee Electric, and Cumulus Broadcasting Radio Stations. All proceeds benefit community projects and improvement grants for businesses. For information, call Lisa Rock at 843-992-1561.
Today
A meeting of the City of Darlington Board of Zoning Appeals will be held Monday, April 1, at 5:30 p.m. at City Hall, located at 400 Pearl Street.
Tuesday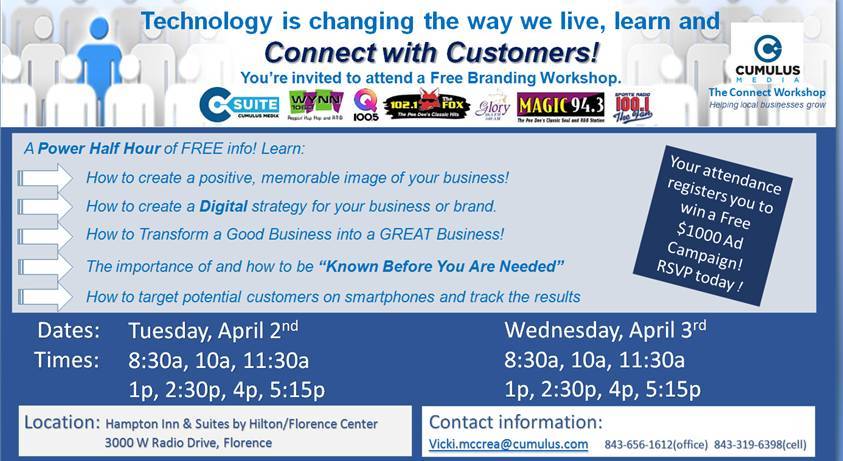 Free Exercise Class at 9 a.m. Tuesdays at the Harmon Baldwin Recreation Center, 300 Sanders St. 843-398-4030
DDRA Board of Directors will meet at 8 a.m. at the City administration building, 410 Pearl St.
Darlington City Council meets 6:30 p.m. on the first Tuesday of the month except where noted (*). Dates are April 2, May 7, June 4, July 2, August 6, September 3, October 1, November 12*, and December 3.
Wednesday
Free Exercise Class at 9 a.m. Wednesdays at the Harmon Baldwin Recreation Center, 300 Sanders St. 843-398-4030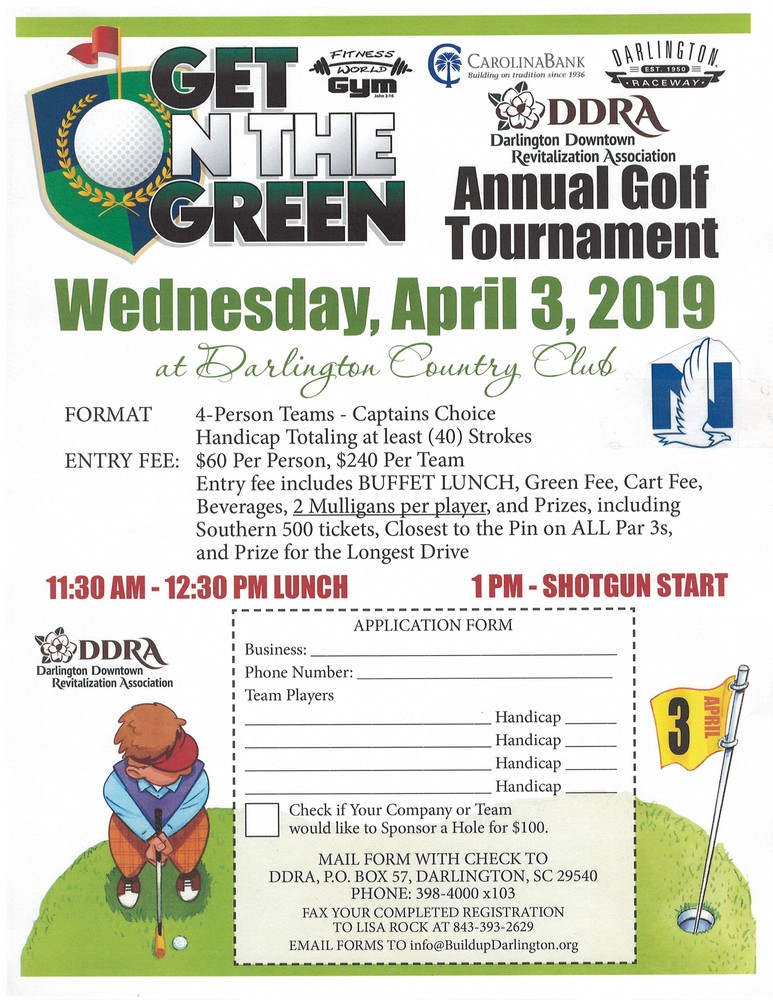 DDRA's Annual Golf Tournament at Darlington Country Club. Buffet lunch begins at 11:30 a.m. with a shotgun start at 1 o'clock. Sponsored by Carolina Bank, Nationwide Insurance, Fitness World Gyms, and Darlington Raceway. Email info@buildupdarlington.org or call 843-398-4000 x 103
Karaoke from 8 to 10 p.m. Wednesdays at Darlington Elks Lodge, 836 Timmonsville Highway, Darlington. 843-393-1451
Test-n-Tune / Grudge at Darlington Dragway. Open To Any & All Race Vehicles. Info: (843) 383-0008 or http://www.darlingtondragway.com
Thursday
Free Exercise Class at 9 a.m. Thursdays at the Harmon Baldwin Recreation Center, 300 Sanders St. 843-398-4030
Wiggles & Giggles Story Time at 10 a.m. Thursdays at Darlington Library, 204 N. Main St. 843-398-4940 ext. 305
The Darlington County Historical Commission Board meets from 10 a.m. to 11:30 a.m. on the first Thursday of the month, excluding July and August, in the research room at the commission, 204 Hewitt St., Darlington. Dates for 2019 are April 4, May 2, June 6, Sept. 5, Oct. 3, Nov. 7, and Dec. 5. Info: 843-398-4710 or dchc@darcosc.net
Fahrenheit 255 will have Trivia Night with prizes and specials at 6:30 p.m. every Thursday at 26 Public Square.
Bingo! at 7:30 p.m. Thursdays at Darlington Elks Lodge, 836 Timmonsville Highway, Darlington. 843-393-1451
The Block M Club will meet at 8 p.m. April 4 at American Legion Post 210 on Sparks Street.
Friday
Life Line Screening will be available at First Baptist Church, 216 S. Main St., Darlington, on Friday, April 5. Pre-registration is required. Call 1-888-653-6450. http://www.lifelinescreening.com/community-partners
Saturday
On April 6, the Darlington Area Recreation Department will be hosting It Takes a Village 5K to help raise money for this department. Proceeds this year will be used to help offset cost for signage in the new parks and to help scholarship kids that cannot afford to pay for our programs. Mark your calendars for this fun event, all are welcome! Please sign up online at www.simplytiming.com
The Southeastern Bluegrass Association of South Carolina will hold monthly concerts on the first Saturday of every month at The Darlington Music Hall. Doors open at 4 p.m. for jamming, socializing, and open mic. Light snack and soft drinks are available for purchase. Admission is $10, but $7 for members, $5 for students, and free for children 12 and younger.
Fast & Flashy at Darlington Dragway. Info: (843) 383-0008 or http://www.darlingtondragway.com
Mark Your Calendars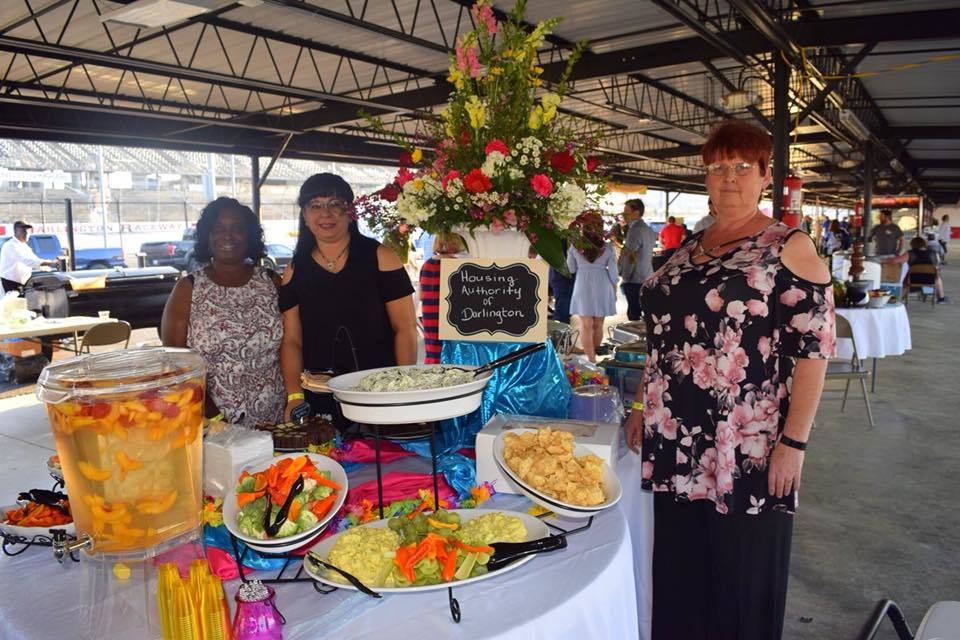 Thursday, April 11 – Taste of Darlington, 7 to 9 p.m., at Darlington Raceway. Email info@buildupdarlington.org or call 843-398-4000 x 103
Saturday, April 13 - 8th Annual Run for Brighter Days and Kids Farm Fun event at Dargan Farms, 1301 S. Charleston Rd. Register at http://runforbrighterdays.itsyourrace.com. What do you run for? Join us and run for a tremendous cause. Suicide is now the 2nd leading cause of death for young people 15-29. Join us for our 8th annual run and Be THAT Friend and be a part of something big! This run/walk takes runners on a scenic course throughout Dargan's Farm and pond. It is centered around one of the most beautiful but tucked away places in South Carolina. This race is a part of the Pee Dee Grand Prix Series sponsored by Simply Timing. Registration: 5K $25/$30 after March 29th, FUN RUN $15/$20 after March 29th, Kids 12 and under FREE & Track Team Members 18 & unde.r Price increase for same day registration. Join us at the Kids Farm afterward for Jump Castle, balloon slide, barn slide, golf putt-putt, popcorn, strawberries and goat petting! Awesome event for the KIDDOS! Free t-shirt and medal for all kids that walk or run! All proceeds go towards www.thejonathanfoundation4teens.org
3rd Annual WOOOSTOCK Schedule at Darlington Dragway, April 11-13. Thursday, April 11: GATES open 10AM-10PM for racers parking. TRACK HOT for testing, GRUGDE racing 4PM-10PM Cars/Bikes $50. Spectators admission $20. Friday, April 12: GATES open 8AM-MIDNIGHT for racers parking. TRACK HOT for testing, GRUDGE racing 11am-MIDNIGHT Cars/Bikes $50. Attention 5" NOS racers DRIVERS meeting 6:3PM for 5"NOS Shootout FIRST round 8PM. Spectators Admission $20. SpeedVideo LIVE 5PM Saturday, April 13: GATES open 8AM for racers parking. TRACK HOT 10AM-for Quick 32 Bracket time runs & Heads up testing, GRUDGE racing between Bracket time runs. N/T Jr Dragsters drivers meeting 12:30PM First round 2PM behind Quick 32 Bracket class. Drivers meeting for ALL N/T class besides N/T Jr's 5:30PM FIRST round for ALL N/T classes 7:30PM behind open ceremonies! Test n tune, GRUDGE racing between shootout rounds ! Test n tune may get cut off early due to high car/bike count. $50 Cars/Bikes. Spectators admission $25. FULL weekend pass $60. SpeedVideo LIVE 11AM-12PM. Visit Carolina N/T Productions website for class rules www.carolinaNTproductions.com. Info: (843) 383-0008
Become a Member!
Join the DDRA and show your support for our community. Download the Membership Application here. Members can share news about your business or organization by giving us a call, 843-992-1561, or sending us an email, info@buildupdarlington.org, and we will feature yours news on our site and distribute it through our News Alert system via text and email to people interested in Darlington as well as TV stations, radio stations, and newspapers. We can come take a photo or use what you already have. This allows you to share employee recognitions, new products, sales, special hours and events, and more – all as a benefit of being a member of the Darlington Downtown Revitalization Association!
If you are already a member, please make sure to submit any updates to your businesses' Map Location Form to info@buildupdarlington.org.
To have your event listed on our websites, please email info@buildupdarlington.org or call 843-398-4000 x 103 by the week prior to your event.