10/11/2018
Hurricane Michael Update - 9:30 a.m. Oct. 11
Hurricane Michael Update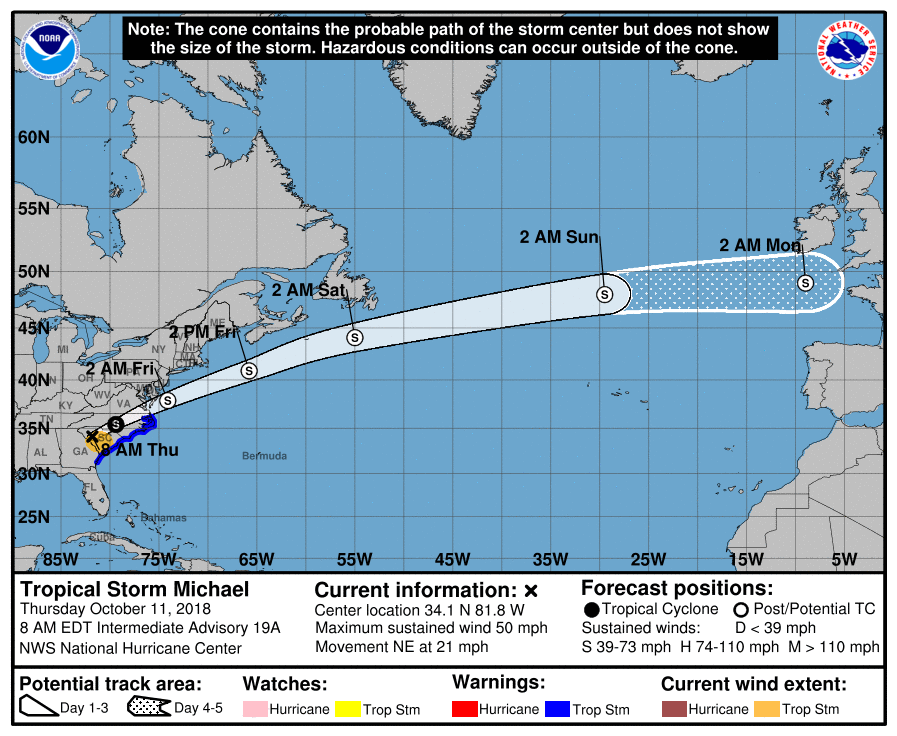 Impact Summary:
Rain: Heavy rain will continue today, ending from west to east throughout the day. Flash flooding possible in some areas.
Wind: Strong, gusty winds through today. Wind gusts between 40-50mph likely with a few higher gusts possible, especially in the eastern half of the state.
Tornadoes: Potential for tornadoes in the eastern half of the state through this evening.
Citizens are advised to stay off the roads during the storm and its aftermath to allow first responders and clean-up crews to evaluate the roads for safety. Do NOT venture out if you don't have to do so.
Closures, Schedules, and Delays
Williamson Park Drive and Williamson Park has been closed until further notice.

City of Darlington offices are closed on Thursday, Oct. 11.

Darlington County general government services will be closed on Thursday, Oct. 11. This includes general services, recycling centers, and the landfill that will be closed on Thursday and plan to reopen on Friday morning for normal operations.

Darlington County schools will be closed on Thursday, Oct. 11.

Local residents may call (843) 398-4469 for information or to report damages.

Darlington County opened its Emergency Operations Center at 6 a.m. Thursday with limited operations.
Sanitation Information
Household garbage pickup and yard debris collection will be collected on FRIDAY for Thursday's regular route and Friday's regular route.

There will be

no

recycling collection this week. Recycling will resume Tuesday, Oct. 16, as scheduled.

Debris collection will be prioritized to clear roads and bridges before returning to regular routes based on damage assessments following the storm.
Important Numbers
For water and sewer issues, call the after-hours number at 843-758-1127.

For streets blocked by trees, report to 911.

For downed power lines or outages, call 1-800-769-3766 for Duke Energy customers, or call 1-800-693-0190 for Pee Dee Electric customers.

For issues with natural gas lines, call 1-888-333-4465.

For all other emergencies (medical, fire, and police), please call 911.
SeeClickFix Online or App
The City of Darlington needs YOU ... to be involved! SEE something amiss? CLICK on this link or the app on a smartphone and send us the details, so we can get it on the schedule to FIX. You can also stay up-to-date on issues other citizens have reported.
Thank you!