02/16/2022
Clemson Extension Upcoming Programs
Clemson Extension Upcoming Programs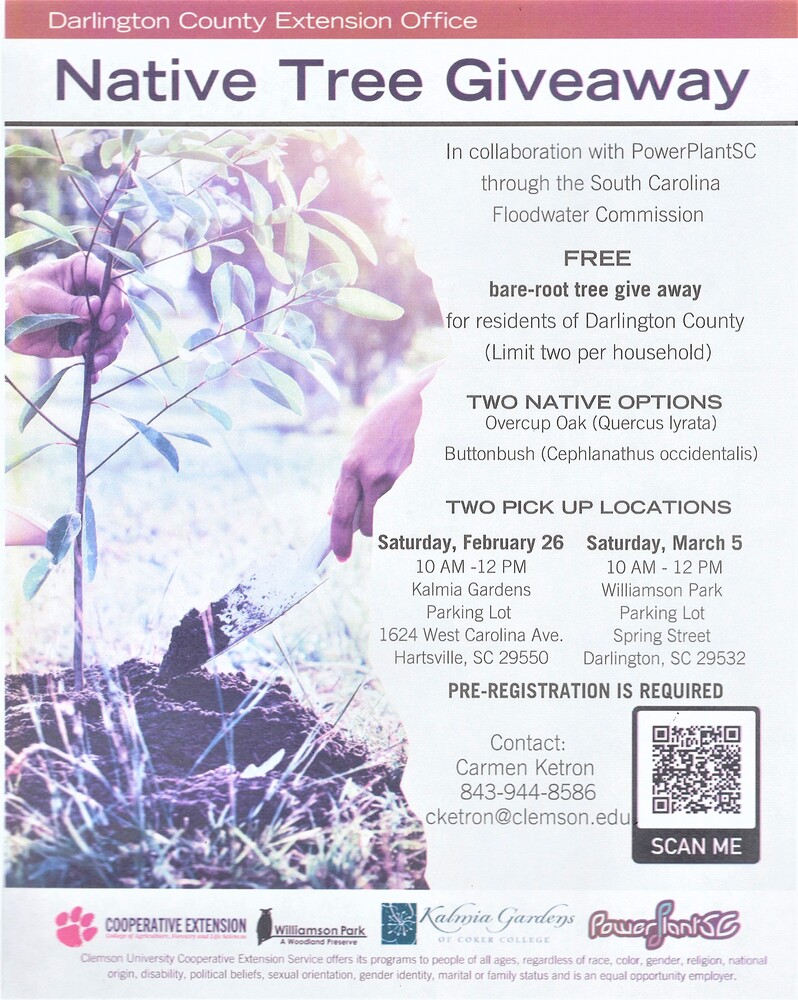 Darlington County Extension Office will hold a Native Tree Giveaway in collaboration with PowerPlantSC through the South Carolina Floodwater Commission. Residents of Darlington County can register to pick up two bare-root trees, either an Overcup Oak or Buttonbush. Pick up from 10 a.m. to 12 noon Feb. 26 at Kalmia Gardens Parking lot, 1624 W. Carolina Ave., Hartsville, and from 10 a.m. to 12 noon March 5 at Williamson Park, Spring Street, Darlington. Pre-registration required. Contact Carmen Ketron at 843-944-8586 or cketron@clemson.edu. Download the flyer here.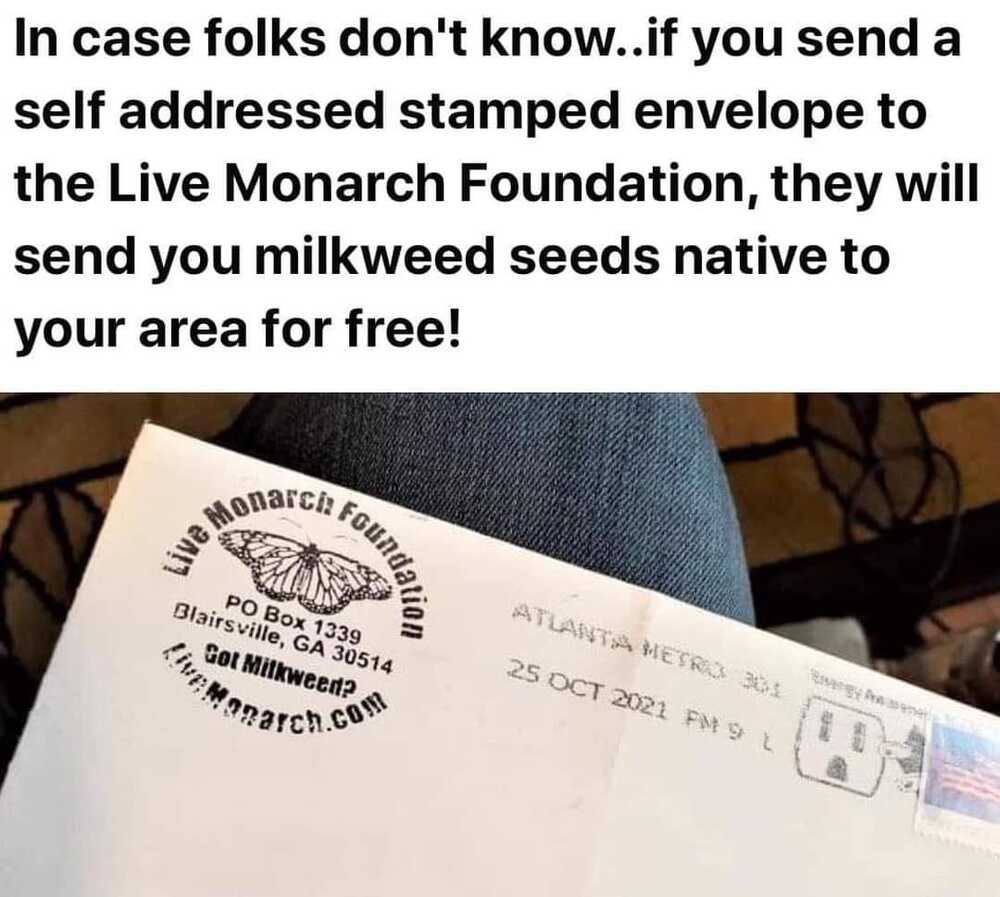 Cotton Meeting and Pesticide Training will be held at 6 p.m. Feb. 21 at the Cotton Museum, 121 W, Cedar Lane, Bishopville. Info: 843-393-0484. Download the flyer here.
Southern Gardeners Bootcamp will be held from 5:30 to 7:30 p.m. Wednesday evening through April 13 at the Cooperative Extension Office, 2685 S. Irby St. Suite K, Florence. Cost is $15 per class ($12 for master gardeners). Register online at https://www.eventbrite.com/e/southern-gardeners-bootcamp-series-tickets-204424919437. Info: Cameron Ketron 843-944-8586. Download the flyer here.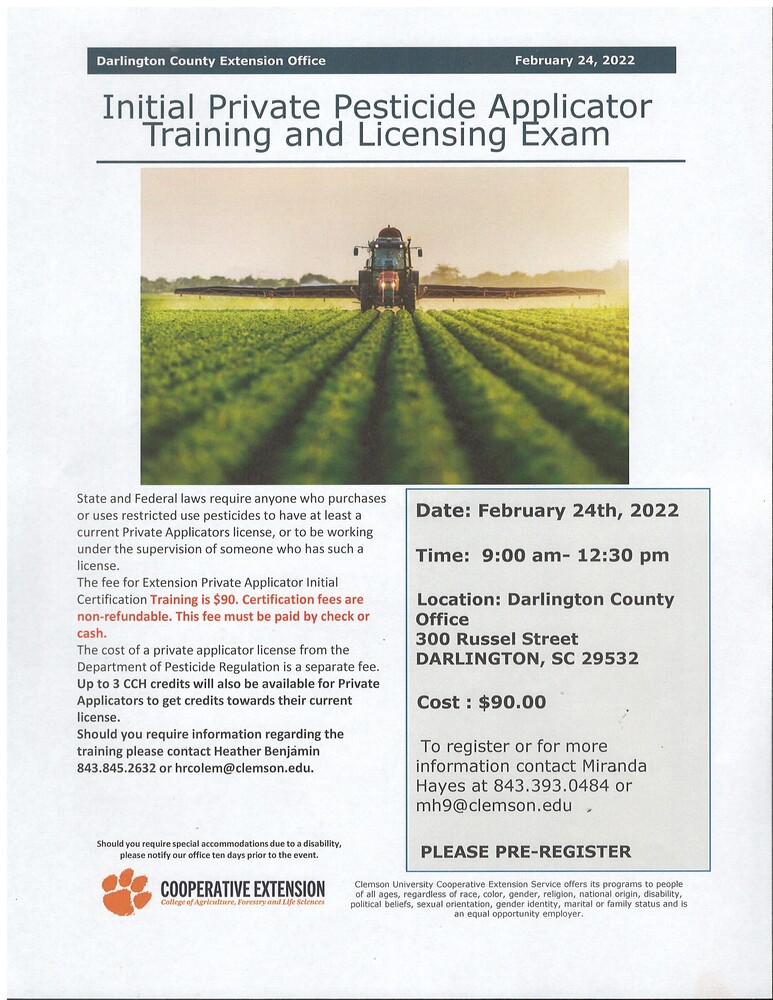 Initial Private Pesticide Applicator Training and Licensing Exam will be held from 9 a.m. to 12:30 p.m. Thursday, Feb. 24, at the Darlington County Extension Office, 300 Russell St. Cost: $90. Register by contacting Miranda Hayes at 843-393-0484 or mh9@clemson.edu.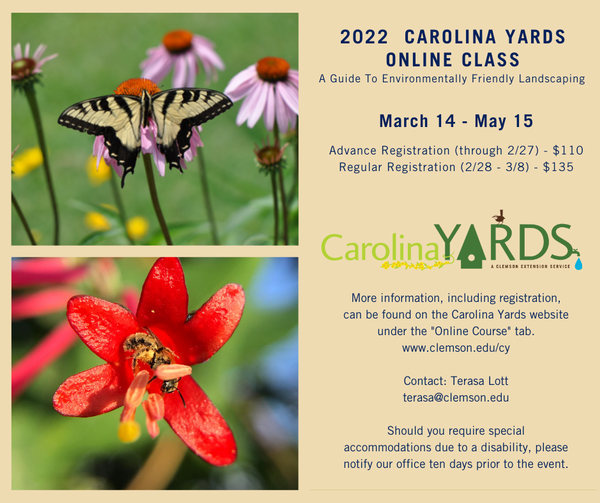 Want to learn more about environmentally friendly landscaping? Registration is now open for the 2022 Carolina Yards Online Class. Find all the class specifics and registration at: https://www.clemson.edu/.../caro.../online-course/index.html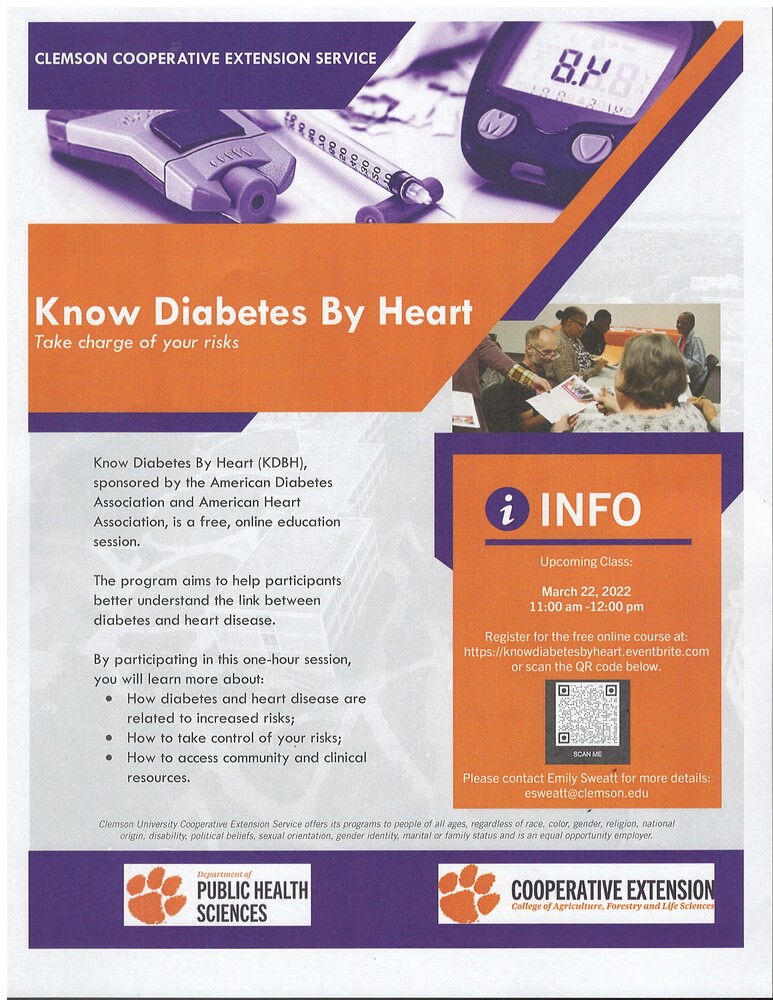 Know Diabetes By Heart online class will be held 11 a.m. to 12 noon March 22. Register online at http://knowdiabetesbyheart.eventbrite.com or contact Emily Sweatt at esweatt@clemson.edu. Download the flyer here.
Darlington County Master Gardener Plant Sale will be held April 21-23 at the Joslin Education Center in Hartsville.
More Resources