11/26/2021
Shop Darlington this holiday season for a chance to win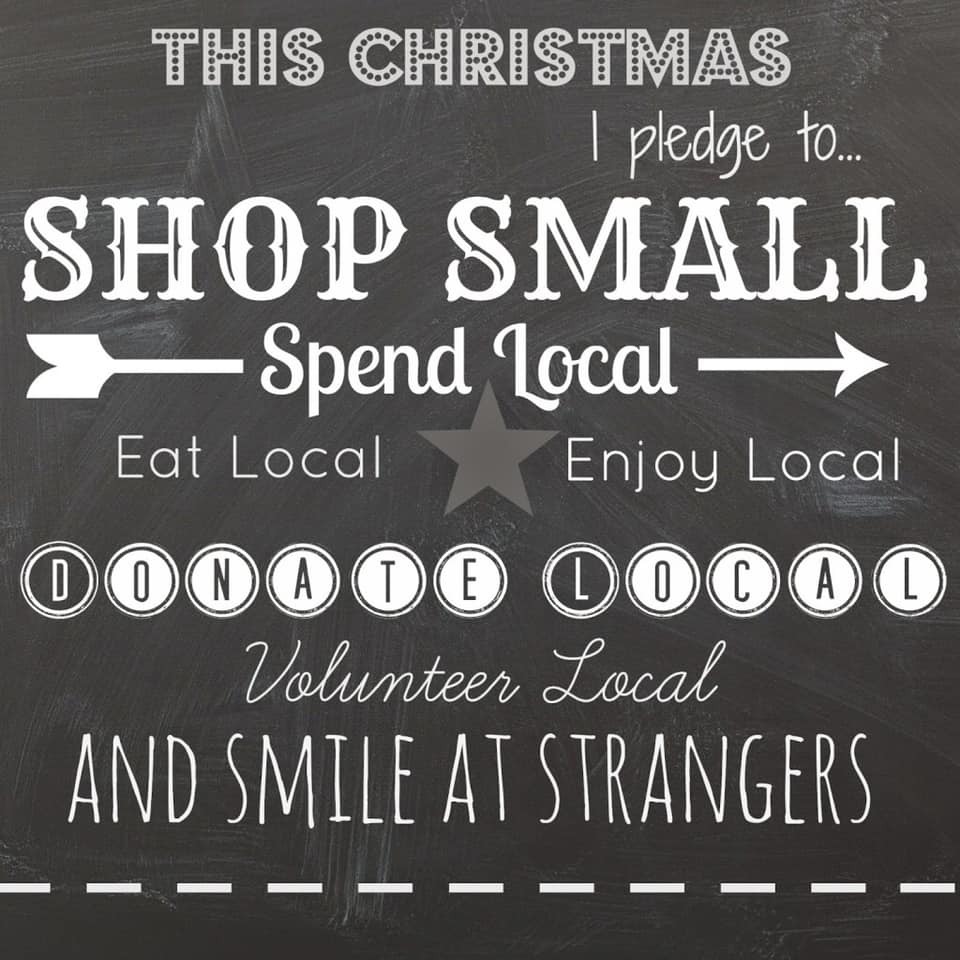 The Darlington Downtown Revitalization Association holds its annual holiday contest to encourage people to shop in Darlington by giving them a chance to win one of three $100 cash prizes.
Between Thanksgiving and Christmas, shop at five different Darlington businesses; mail the DDRA copies of your receipts with an entry form, and then you will be entered into the drawing.
"We want to encourage people to purchase their gifts in town rather than traveling to Florence for Christmas shopping," says Lisa Bailey, director of DDRA, Planning & Economic Development for the City of Darlington. "Our businesses try very hard to diversify their inventory to please changing consumer tastes, and we need to reward them with our dollars if we want to continue to have and to grow our retail sector."
While you are out shopping, take a break to stop into one of Darlington's restaurants for another receipt to add to your entry, as restaurant purchases during this time period will qualify as part of an entry. Gift cards or gift certificates at local eateries or at other service-based shops like salons or gyms qualify too.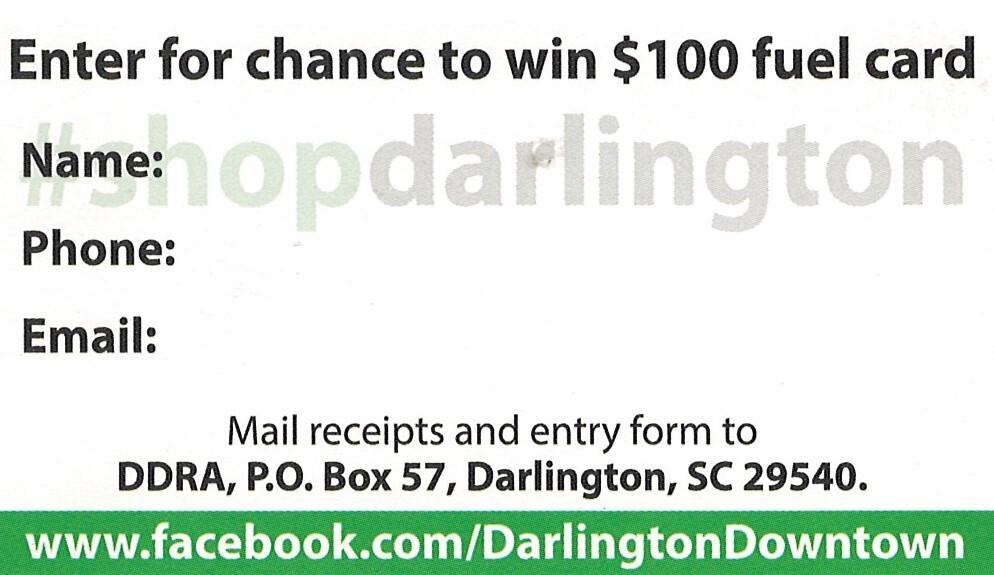 "We wanted to give people as many options as possible, so, as they go through their holiday shopping list of names, they could accommodate everyone," Bailey says. "Some people prefer to go out for a meal rather than get a sweater, and who doesn't like being pampered at a salon? These are all great gifts that can be purchased right here in Darlington."
Supporting city shops will boost the community's bottom line, not just retailers. Local businesses are invested in their community and support youth sports teams, local church and civic groups, and area school programs. When residents commit to support their town's stores, those store owners can invest in their businesses with added inventory or even added employees if the commitment from the community is significant enough. Additionally, tax money collected from those businesses return to the city and county where the business is based, which funds infrastructure and development in the area, as well as through the wages of your friends and neighbors who staff those shops.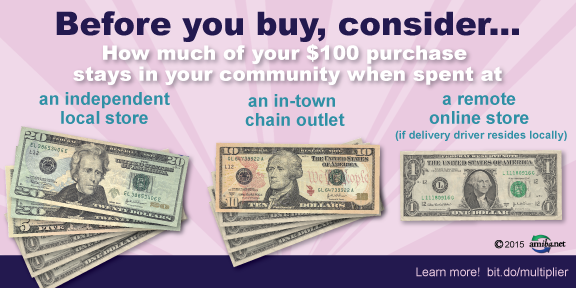 "This project is taking our previous Shop Darlington Challenge to the next level by giving people the potential for a financial reward for shopping locally," Bailey says.
You may make multiple entries to increase your odds of winning, just keep shopping in town. Multiple entries must include different purchases and different purchase dates than previous entries. So, if you make 10 purchases at different Darlington businesses, you could enter twice. Fifteen purchases would let you have three chances to win, and so on.
Receipts, either the originals or copies, must be dated November 25, 2021, to December 25, 2021, to qualify, and each entry must include purchases made at five different businesses. Purchases of tobacco, prescriptions, and fuel do not qualify for entry into the contest, and neither do purchases at fueling stations since the group is trying to encourage folks to stay in town to shop.
"I hope people will take the time to visit a different business that they normally just drive by to see what they offer because many shops have a variety of items, especially gift items during the holidays, which would be unexpected," Bailey says. "For example, Darlington Office Supply on the Square has your typical office supplies like paper and pens, but the business also has lots of learning games and toys, Bible covers, cards, and candles you wouldn't necessarily expect to see. Shannon's Salon on Pearl Street and Merle Norman on the Square have jewelry, clothes, and decorations, including some Christmas themed items that would make great gifts.
"Finding good, unique gift items in town isn't as impossible as people believe. As a city, we have to get out of the mindset that we have to travel to Florence or Hartsville to fulfill our needs. We don't. We just need to open the door and see what our stores have to offer before we get in the car."
Entry forms will be located at area businesses and City Hall. You can find copies in The News & Press through Dec. 22, online at www.BuildUpDarlington.org/shopdarlington, or the DDRA Facebook page. The form includes your name, phone number, and email address, and needs to be mailed to DDRA, P.O. Box 57, Darlington, SC 29540, by December 31. You must be age 18 and older to enter.
A drawing of all the qualifying entry forms received will be held by January 7. The winners will be contacted by phone and by email. Gift cards will be presented in person at a location to be determined by the DDRA for a publicity photograph.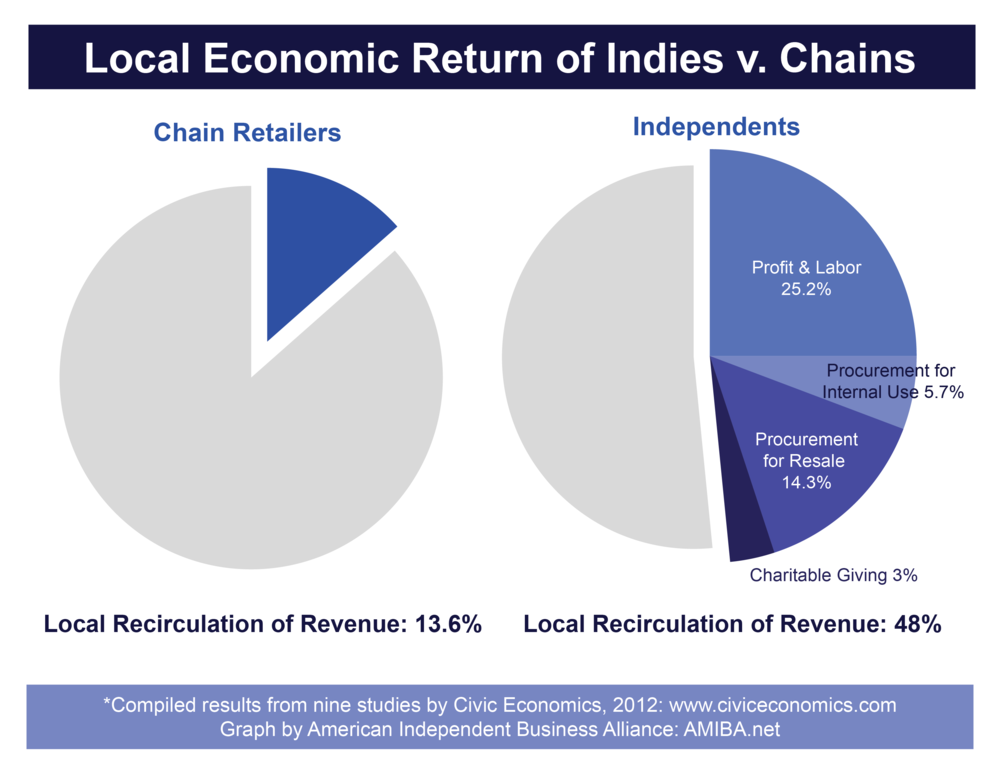 Complete rules can be found online at www.buildupdarlington.org/shopdarlington.