04/13/2020
Weekly Update City of Darlington
Darlington County Courthouse will be restricted to appointment only to maintain social distancing requirements. Call 843-398-4100
The Darlington County School District will be closed starting April 10-19 for spring break. Classes will resume on April 20. There will be no lessons put out or for students to complete during that time. The district will only do one meal delivery during spring break, which will be Monday, April 13. The meal delivery will be for the entire week.
Darlington County Council has cancelled its May 4 scheduled meeting among other meetings, which will be rescheduled.
DDRA MEMBERS IN THE NEWS: Local church creates Easter egg pick up as an alternative due to coronavirus restraints
Photos: COVID-19 images from Easter Sunday church services in Florence and Darlington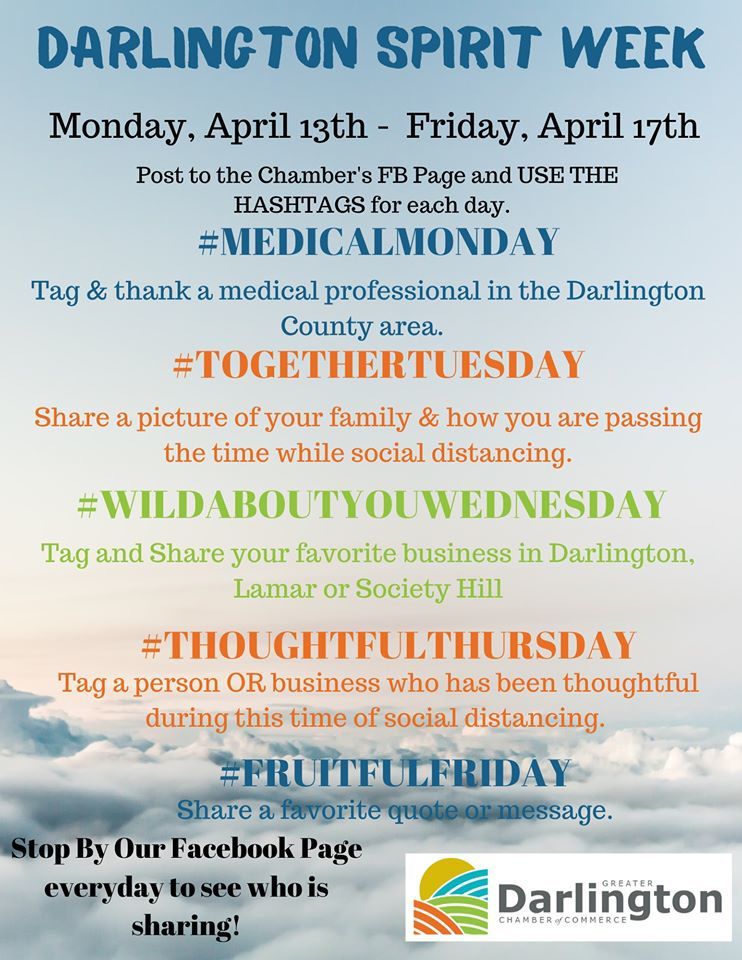 It is SPIRIT WEEK at the Greater Darlington Chamber of Commerce! Everybody play along. It will be fun to do PLUS we all want to see everyone's posts. TO PLAY: use the hashtag and the name of the day, for example - #MedicalMonday and make your post on our FB page following the instructions for that day. No shares are wrong. This will be uplifting and inspiring to do and to read. #ILoveDarlington.
Today
Darlington City Council will hold a work session at 6 p.m. Monday, April 13. Find meeting packet information here. CLICK HERE for the LIVE STREAM.
Thursday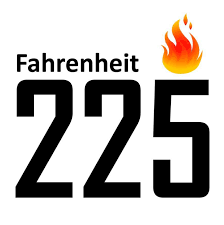 Fahrenheit 225 will have Isolation Trivia Night on Thursdays with four rounds 30-minute rounds beginning at 6 p.m. Each round will consist of 6 questions worth one point each. Each question will be asked as a separate Facebook post. Submit your answer as a reply. The point will go to the first correct answer. Please reply only once with your answer, and do not add any additional replies to that particular post. Any edited answers will not be scored. Each round's winner will be given a $5 credit at the restaurant. Pick up to-go orders at 26 Public Square, Darlington. Call in take-out orders at (843) 944-0321.
Sunday
Car Church at Two-O-One Pearl Street, the old post office, will be held at 10 a.m. on Sundays. Drive up and tune the radio to 88.7FM to hear the service.
Other churches are streaming services online. Send us the links to your services, and we will distribute them each week. Email info@buildupdarlington.org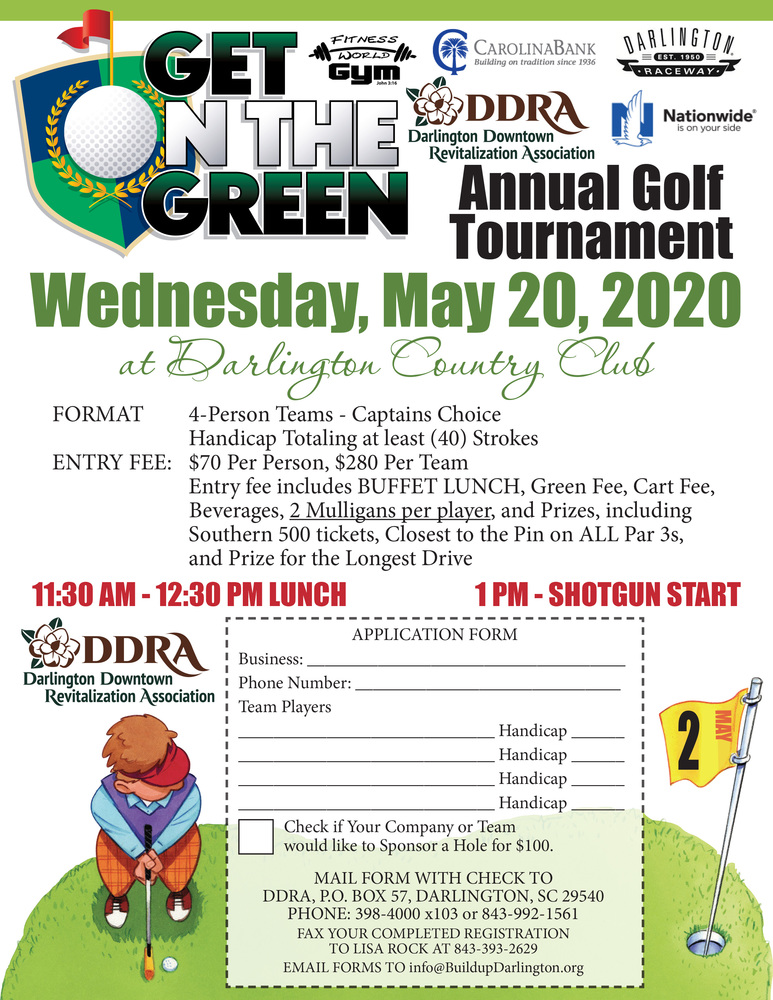 BUSINESS OPERATIONS & CAPACITY
Click here for a list of what businesses are operating and at what capacity. Please send information to darlingtonplanner@gmail.com or text 843-992-1561 to update a listing. We will continue to update this link, www.buildupdarlington.org/covid19, as we get information.
CANCELLATIONS & RESCHEDULING
While City Offices will be closed through at least Friday, April 17, individuals are encouraged to do all business by phone or email during this event. City staff will be available by phone and email, and essential services will not be interrupted. You can find updates here.
All City offices are restricted to essential personnel only.
SCHOOL NEWS
Trinity-Byrnes Collegiate School announced a temporary closure for the school and transition to distance learning beginning Monday. The school will remain closed throughout the end of the month of March. All events and after school activities are postponed for the month of March and will be rescheduled. Distance learning means Trinity-Byrnes students will not be missing class.
The Darlington County School District released its eLearning and remote learning plan to continue instruction while district schools are closed. Through the DCSD program, students will be able to keep learning, even when face-to-face options are unavailable. The district also announced how parents can pick up devices still at school, as well as introduced teacher office hours and the new technology helpline. MORE INFO ->
The Darlington County School District (DCSD) will provide nutritional, breakfast and lunch meals at more than 30 locations during school closures for the coronavirus situation.
Any child who is 18 years old or younger can get drive-thru, "grab-and-go" meal bags at more than 30 locations, Monday and Wednesday from 10:30 a.m. until 1:30 p.m. The child or children must be present at the time of pick up. The meal bags will contain breakfast, lunch and a snack, so only one trip needs to be made each day.
The following schools will be open for drive-thru pick up:
Darlington Middle School
Darlington High School
Hartsville Middle School
Hartsville High School
Lamar High School
Mayo High School for Math, Science and Technology
West Hartsville Elementary School
Additionally, the following locations will be open for drive-thru pick up (look for school buses):
Darlington Area
Bowens Manor Apartments
Oakwood/Pepper Drive - Pull Off Area
Merita Bread on Highway 52
New Providence Baptist Church
New Vision Outreach Center
1608 Elissa Drive - Softball Field
Doveville Park - Old Fire Department
1005 McIver Road - Across from Fibers Industries
Hartsville Area
East Park Apartments
South Park Apartments
Swift Creek Apartments
Centerville AME Church
Antioch Baptist Church
Lydia Trailer Park
Forrest Ridge Apartments
Leesburg/Carolina Avenue - Pull Off Area
Stoney Brook Trailer Park
Bethlehem United Methodist Church
Sister Sister Grocery Store
Kay Branch Baptist Church
Lamar Area
Cambridge Apartments
Shiloh UMC
St. John's UMC
Lake Swamp Baptist Church
Again, these locations will serve "grab-and-go" meal bags from 10:30 a.m. until 1:30 p.m. Monday and Wednesday during the school closures. This plan is subject to change due to service needs.
For more information, please contact the DCSD Office of Food Services 843-398-2315.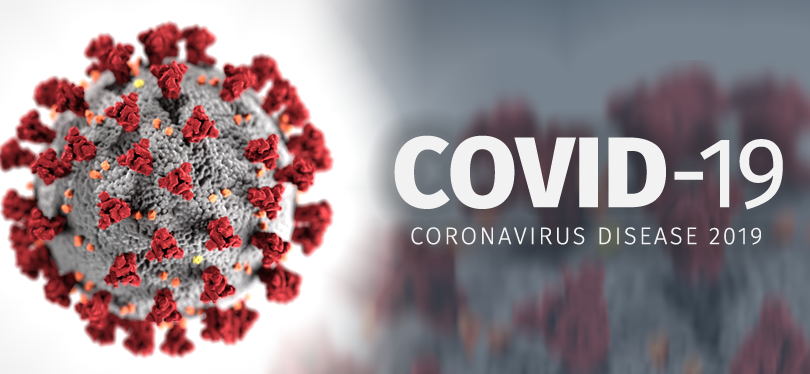 GENERAL COVID-19 INFORMATION
For general information about COVID-19, the World Health Organization, U.S. Centers for Disease Control and Prevention and South Carolina Department of Health and Environmental Control are trusted sources of information. We encourage you to visit their websites for the most current and correct information.
DHEC Careline 855-472-3432: Get answers to common questions about the Corona Virus from 8 a.m. to 6 p.m. seven days a week.
If you are sick, MUSC Health offers a Virtual Visit to determine if you should leave home to seek medical attention if you think you may have been exposed to the Corona Virus. Use promo code "COVID19" at this link.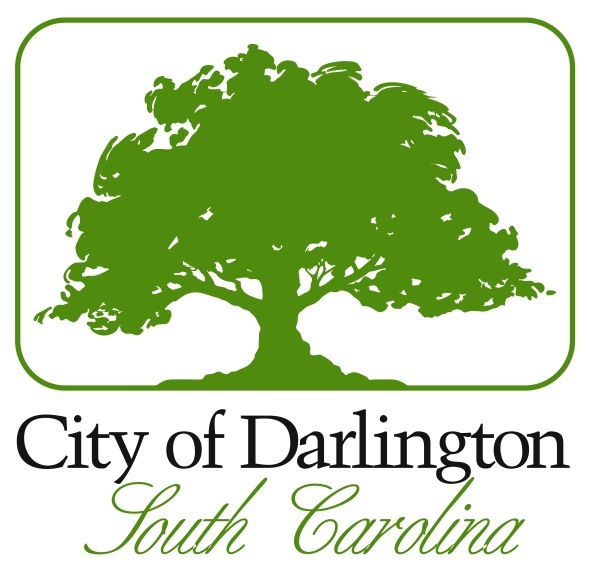 CITY SERVICES
While City Offices will be closed through at least Friday, April 17, individuals are encouraged to do all business by phone or email during this event. City staff will be available by phone and email, and essential services will not be interrupted. You can find updates here.
You may call the following numbers with service-related issues
Emergencies, call 911
Business Licenses - 843-398-4000 ext. 101
Permits - 843-398-4029
Water/Sewer, Normal Business Hours, - 843-398-4040
Water/Sewer, After 5 p.m., - 843-758-1127
Fire, Non-emergency - 843-398-4013
Police, Non-emergency - 843-398-4026
Municipal Court - 843-398-4004
Streets & Sanitation - 843-398-4035
Media Inquiries - 843-992-1561
You may still pay your utility bill or traffic citation online here. City staff will disinfect public areas more frequently and have hand sanitizer available in public buildings. Garbage and yard debris collection will remain on regular schedule.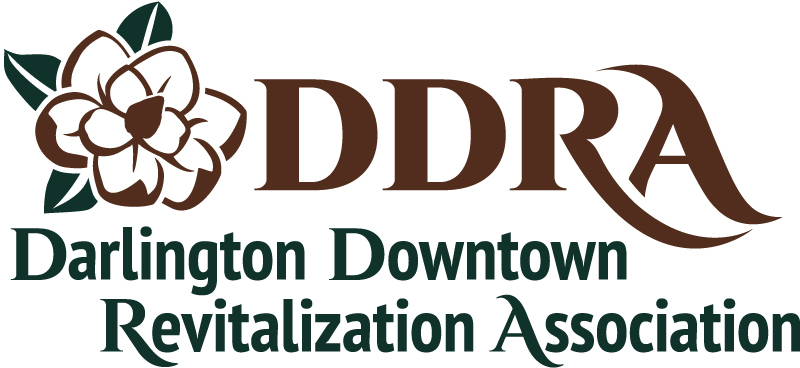 Download the DDRA Membership Application here. Download a Map Location Form for your business. Return to info@buildupdarlington.org or DDRA, P.O. Pox 57, Darlington, SC 29540.
To have your event listed on our websites, please email info@buildupdarlington.org or call 843-398-4000 x 103 by the week prior to your event.