12/06/2019
This Weekend in Darlington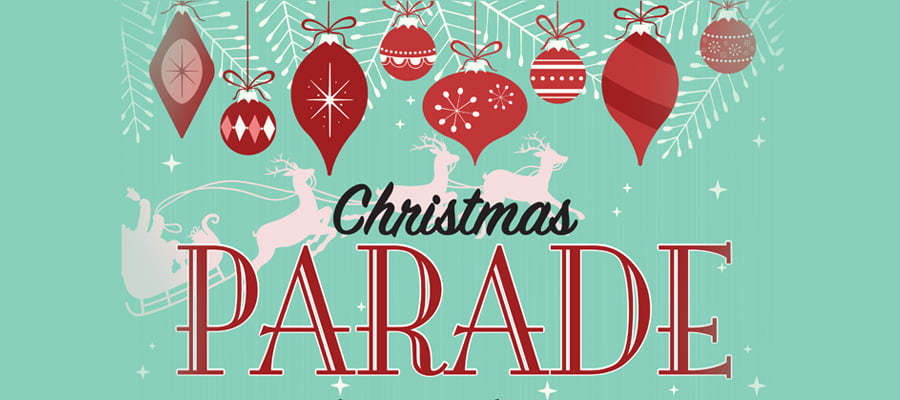 The highlight of the weekend will be the Darlington Rescue Squad's Annual Christmas Parade will be held at 4 p.m. Sunday followed by the Darlington Kiwanis Club's Annual Carol Lighting Service at 6 p.m. Christmas Festival will be held at the Public Square from 4 to 8 p.m. Announcement. Application to be in the Parade. Vendor Application.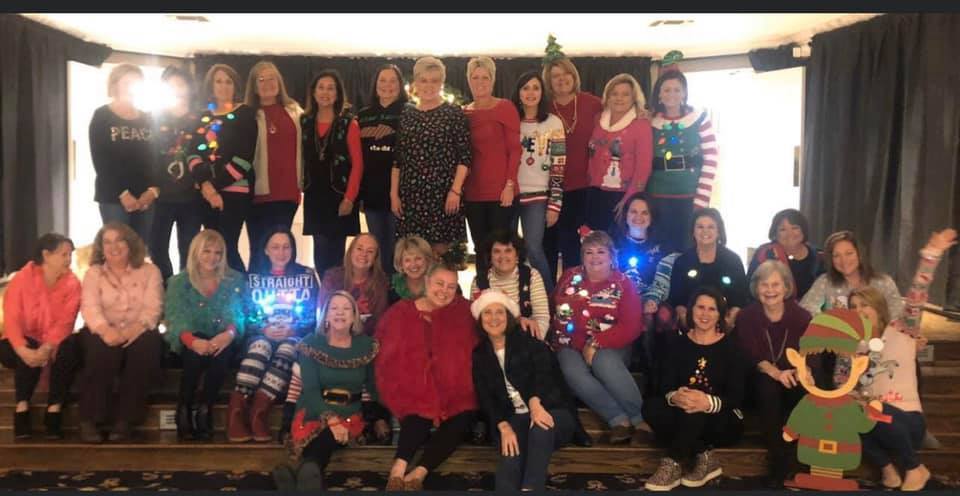 What a great night the Club had hosting the Ugly Christmas Sweater Party. These ladies really put a lot of thought into their "ugly" attire at the Darlington Country Club Thursday night.
Friday
Check out Claus & Paws from 6 to 8 p.m. Friday night at Dargan Farms, 1301 S. Charleston Road, Darlington. Enjoy a magical evening at the farm with a visit from Santa Claus and some of his furry friends from the Darlington and Florence Area Humane Societies. Admission includes entry to a large play area including a giant tube slide, human hamster wheel, rope maze, dirt mountain, corn hole games, and more. Includes two cookies, a hot chocolate, hayride, and visit with Santa.
Third Annual Festival of Trees at Black Creek Arts Council: The Opening Night Preview Party will be Friday ($35 per person) with general admission to the show from 10 a.m. to 4 p.m. Dec. 7 and from noon to 4 p.m. Dec. 8 at Black Creek Arts Council, 116 W. College Ave., Hartsville. The trees and wreaths will be auctioned off to raise funds for Black Creek Arts Council's Art Education Program, our most underfunded program.
Saturday
Darlington Country Club opens for a members' breakfast from 7 a.m. to 10:30 a.m. on Saturdays at the club, 125 Country Club Road.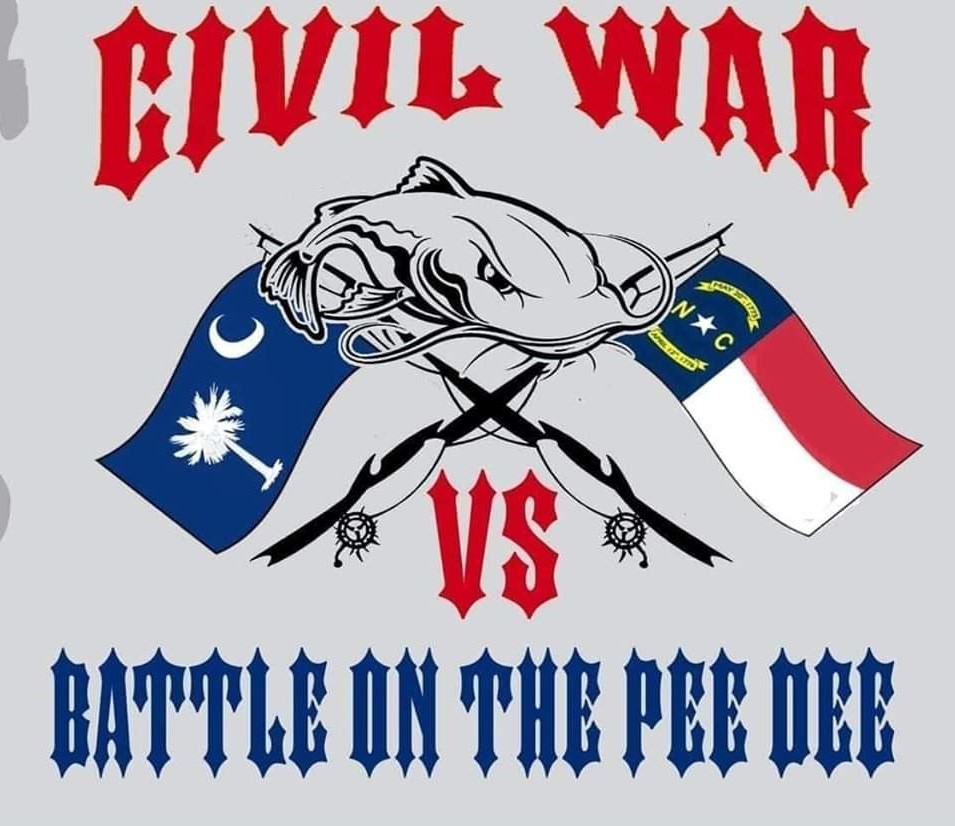 This is the 2nd tournament of the Civil War: Battle on the Pee Dee at Cashua Ferry Landing in Darlington. It will be $100 entry fee with a $20 side pot for big fish(optional). Sign ups and weigh in will be held at the Cashua Ferry Landing. This is a trailering event. You may put in at the Cashua Ferry Landing, HIghway 301, boat ramp or Blues Landing. NO EXCEPTIONS. This will be a two-fish weigh. The FISH MUST BE ALIVE AND RELEASED BACK INTO THE RIVER AFTER WEIGHING IN. If anyone has any questions, contact Derrick Bone or Kevin Lambert.
Darlington County Delinquent Tax Sale will be at 9:30 a.m. Saturday, Dec. 7, at the County Courthouse. No personal checks. No tax payments will be accepted on the day of the sale. Info: 843-398-4180.
Good Samaritans Christmas Giveaway will be 8 a.m. to noon Saturday, Dec. 7, at Butler High Gym on Sixth Street in Hartsville. Free food, clothing, toys, and other items for all persons in need. Info: Rev. Eddie Thomas 803-459-4989, Robert Ervin 843-383-5488, or Ted Williams 843-332-0374
Agape Hospice will hold a free Creative Grief Workshop from 10 a.m. to 2 p.m. Saturday, Dec. 7, at Harmon Baldwin Recreation Center, 300 Sanders St., Darlington. Registration begins at 9:30 a.m. for the ELF (Expressing Loss Freely) program. Lunch is provided. Info: 843-669-5760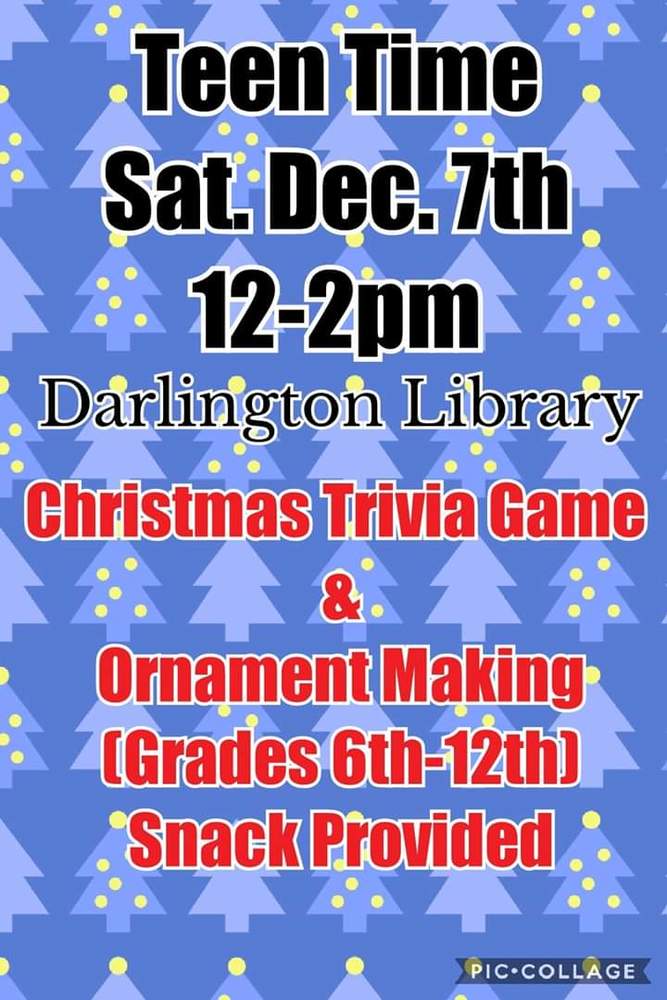 Enjoy Christmas at Medford at 2:30 p.m. Saturday, Dec. 7, at Medford Nursing Center in Darlington.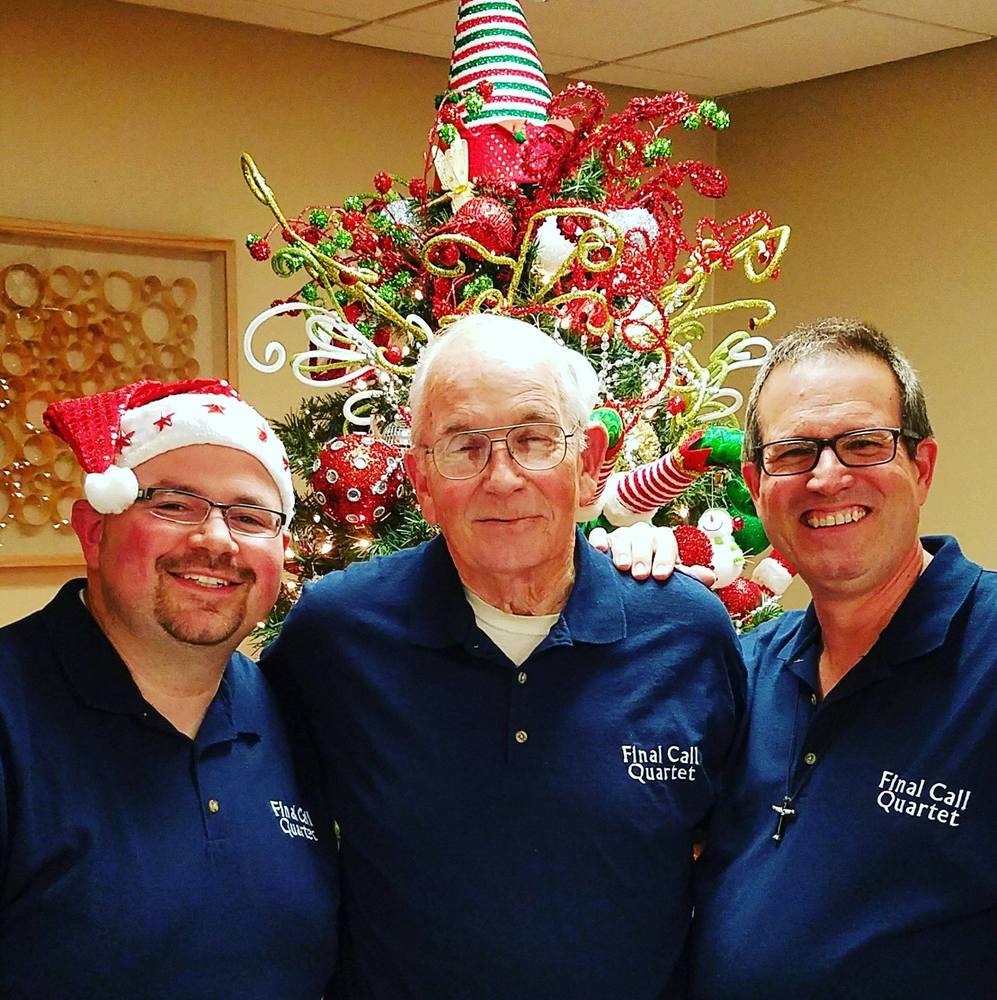 Come hear students of all ages and skill level perform Christian and Holiday selections at 3:30 p.m. Saturday at Bethea Retirement Home, 157 Home Ave., Darlington. Free admission, open to public. Light refreshments following performance. Come support the next generation of artists.
The Southeastern Bluegrass Association of SC SEBGA presents the award-winning Flatland Express Saturday, at the Music Hall, 1945 Harry Byrd Hwy, Darlington. Flatland Express is the 2013 Winner of The Little Roy and Lizzy Band Competition, the 2015 Third Place Winner of the South Carolina State Band Competition at RenoFest, the 2016 Third Place Winner of the South Carolina State Band Competition at RenoFest. Doors open at 4 p.m. for jamming and socializing. Also on stage will be our talented local musicians for our 6:30 p.m. set. Admission is $10 for adults, $5 for students, and free for those younger than 12. Info: 843-669-6952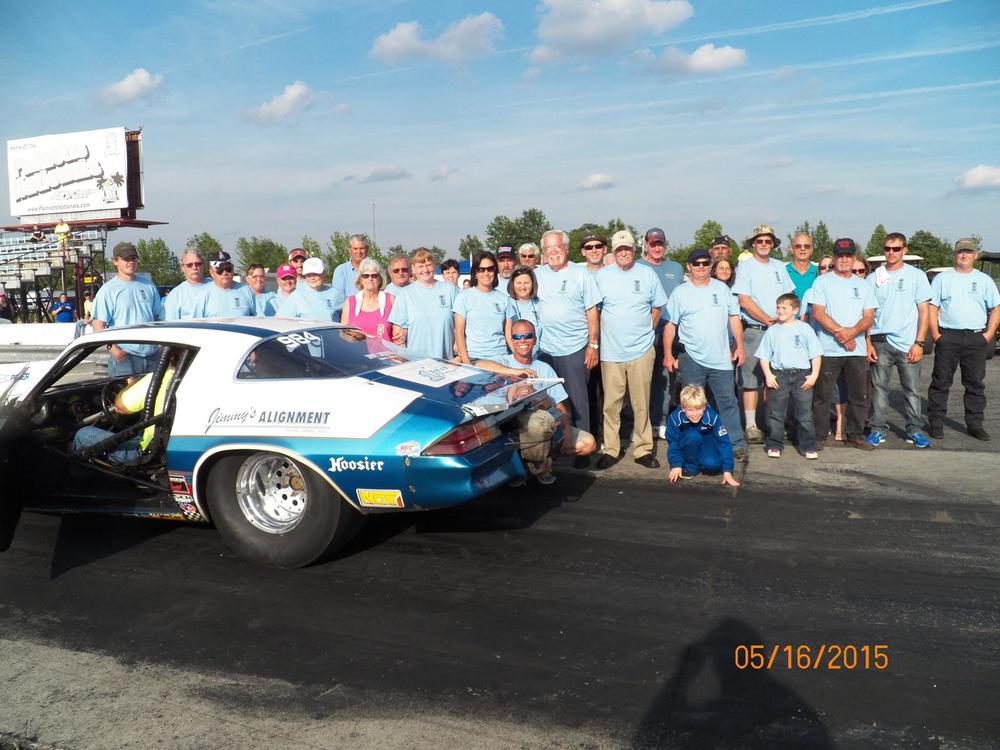 The DRAF Christmas Banquet will be held at 6 p.m. Saturday, Dec. 7, at Darlington Dragway.
Bad Alibi will be live in concert at Carolina Nightlife & Grill, 2244-B Harry Byrd Hwy., Darlington, from 7 p.m. to 2 a.m. Saturday night!
Sunday
All Hunt Bonz Deli locations inside Fastrack Convenience Stores will be open for breakfast and lunch from 7 a.m. to 2 p.m. Come on out and have breakfast and lunch with us on Lamar Highway, South Main Street, or Hoffmeyer Road.
The 251st Annual Christmas Dinner will be held beginning at 10 a.m. Sunday, Dec. 8, at the SC National Guard Armory in Darlington. We welcome the family members of all our Soldiers to come join us on this day to fellowship over a great meal, come see what we have accomplished over the past year, and get to know the 251st.
You are cordially invited to Share the Holiday Spirit with Kalmia Gardens at the Historic Hart House, c.1820, on December 8 from 3 p.m. to 5 p.m. at Kalmia Gardens, 1624 W. Carolina Ave., Hartsville. The house will be decorated in period style, and there will be light snacks and a visit from Old Saint Nick. Along with the Hart House tour, the Hart Cottage, Jacob Kelley House, AND Hartsville Museum will also be open free of charge.
Darlington County Picklers meet at 4 p.m. Wednesday and Sunday nights at the Bill Cain Tennis Center at the corner of Orange and Liberty Streets. Learn to play and meet new friends.
Recovery/Self Discovery with Susie Bloodworth will be held at 2 p.m. Sundays through Dec. 8 at Black Creek Arts Council, 116 W. College Ave., Hartsville.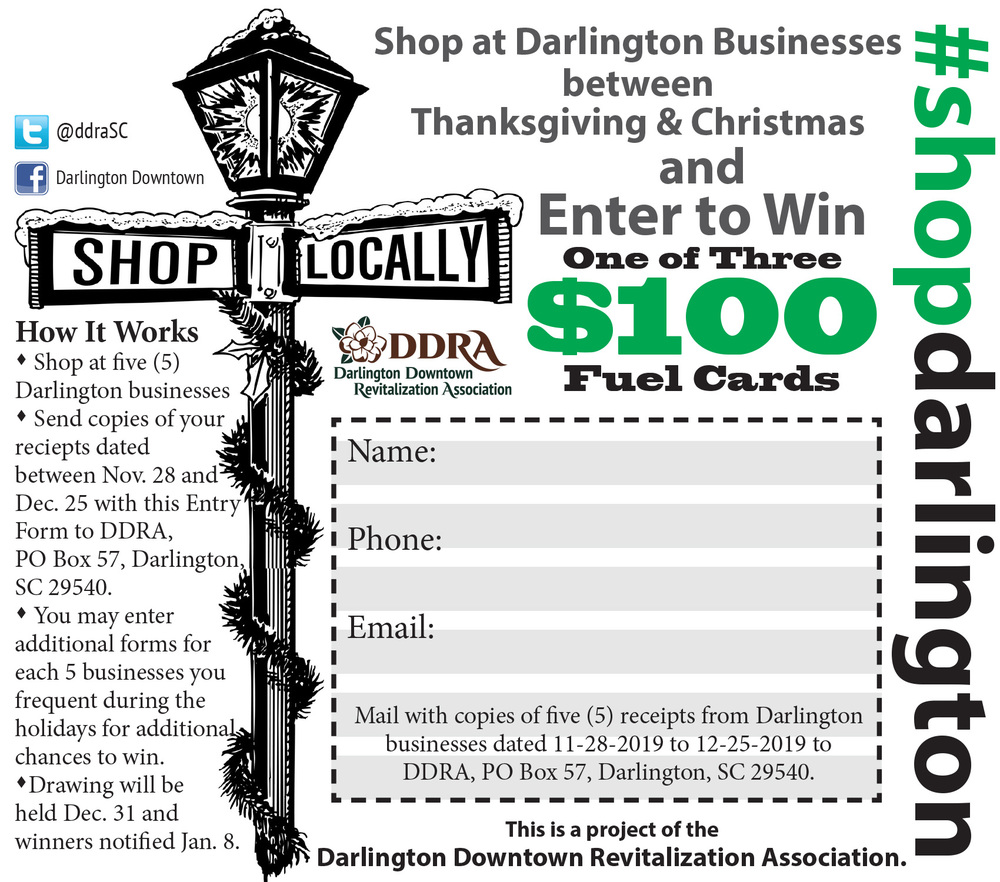 DON'T FORGET TO SHOP DARLINGTON THIS HOLIDAY SEASON! The more you shop in Darlington, the more chances you have to win $100!