11/25/2019
Weekly Update City of Darlington
The Darlington Downtown Revitalization Association (DDRA) awarded another grant through its Improvement Incentive Program last week. Pictured, from left, are DDRA Treasurer David Vaughan, DDRA Board member and Mayor-Elect Curtis Boyd, Executive Director Lisa Rock, DDRA President Bobby Kilgo, business owners Tony Marcus and Michael Scipio, Mayor Gloria C. Hines, and DDRA Board member Nancy Matthews. Improvement Incentive information. Application.
Thanksgiving will be here before you know it! There are lots of great catering options in Darlington, and here are a few DDRA members on that list:
Taki's Diner: 843-393-8979
Hunt Bonz Deli: 843-393-5600 or 843-621-6055
South of Pearl: 843-944-0398

Titans win SCISA 2A title 55-49 in overtime
Darlington County Sheriff's Office to deliver Thanksgiving plates
Want to be at the top of our Weekly Update? Email Lisa Rock at darlingtonplanner@gmail.com or call 843-992-1561 for rates.
Today
Darlington County Soil & Water Conservation District Board meets at 7 p.m. the fourth Monday of the month in the Clemson Extension Kitchen at 300 Russell St., Room 207. Open to the public. Info: 843-393-0483
Tuesday
At 6 a.m. The Lord Cares will distribute free turkeys for Thanksgiving at the Public Square. To donate to the cause, mail checks to The Lord Cares, C/O Dr. David Eads, 208 Cashua St., Darlington, SC 29532.
At 9 a.m. Tuesday mornings, men are invited to join a special devotion time at the Purple Fish Coffee Company, 110 W. Hampton St. Great coffee and fellowship.
City of Darlington offices will be closed from 12 noon to 1:30 p.m. for the City Employee Luncheon.
The Darlington Country Club Sundowners meet at 3:30 p.m. Tuesdays at the club, 125 Country Club Road.
Joe's Grill will have 50-Cent Wing Night for supper at 306 Russell St. Dine-In only.
Tenampa Mexican Restaurant will hold Taco Tuesday for lunch and supper at 40 Public Square. $1 crunchy beef or chicken tacos and various drink specials. Dine-In only.
Tuesday night is WINGS and KARAOKE with S&T Karaoke at Chianti's Wings & Things, 124 Cashua St., downtown Darlington. The wings are 75-cents each, and the songs are free.
Darlington Country Club will be hosting a special Family night on Nov. 26. This night we invite you to bring your letters to Santa fully addressed and ready to be sent to the North Pole. No US postage stamps required; Santa sent us special stamps.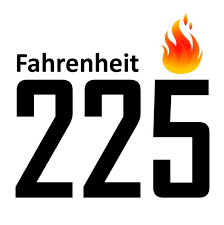 Darlington Kiwanis Club will have a Social at Fahrenheit 225 at 5:30 p.m. on the fourth Tuesday of the month at 26 Public Square.
Wednesday
Free Exercise Class at 9 a.m. Wednesdays at the Harmon Baldwin Recreation Center, 300 Sanders St. 843-398-4030
Darlington County Picklers meet at 4 p.m. Wednesday and Sunday nights at the Bill Cain Tennis Center at the corner of Orange and Liberty Streets. Learn to play and meet new friends.
Crab Night every Wednesday night at Darlington Elks Lodge, 836 Timmonsville Highway, Darlington. 843-393-1451
Thursday
THANKSGIVING DAY
City of Darlington offices will be closed Thursday, Nov. 28, and Friday, Nov. 29, in observance of the Thanksgiving holiday. Trash will not be collected on Thursday. Collection will resume Friday and continue on Saturday.
Start Thanksgiving off right by building an appetite running the Hartsville YMCA's 28th annual Turkey Trot on Thanksgiving morning! This event is one of the largest 5K races in the area, drawing over 500 runners every year! Start a new family tradition with us on November 28, at 8 a.m. in front of the Hartsville YMCA! *Fun run starts at 7:30 a.m.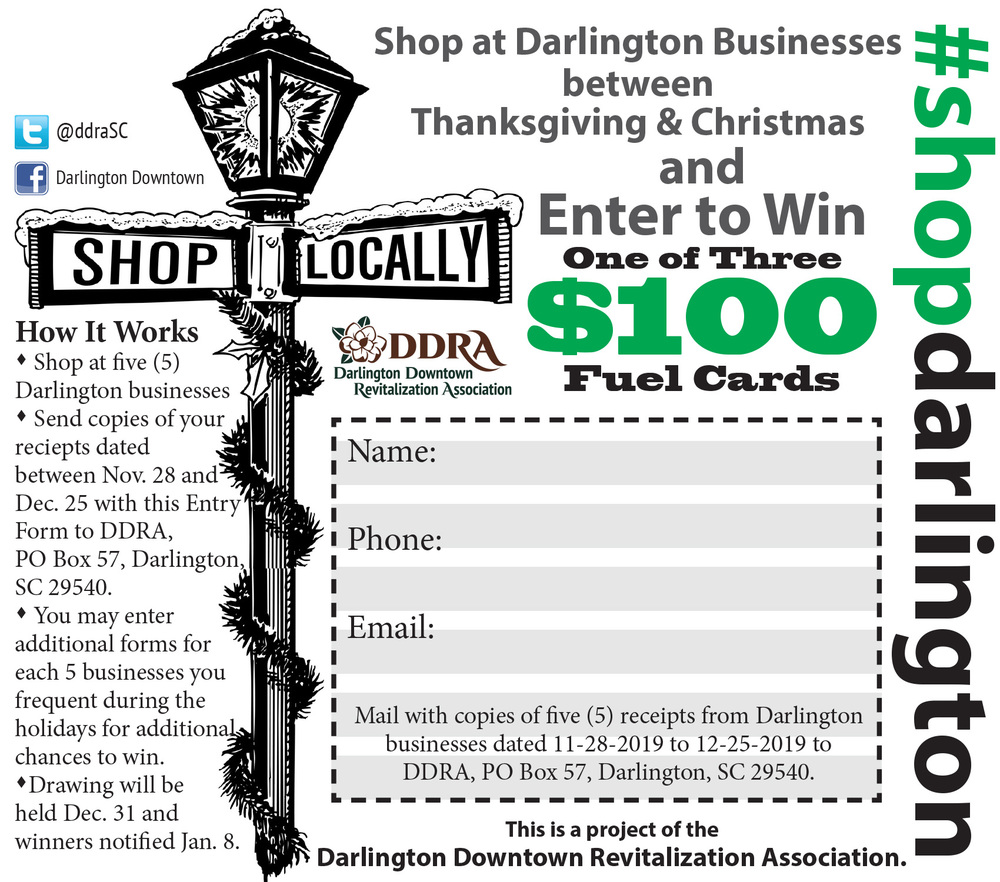 Friday
BLACK FRIDAY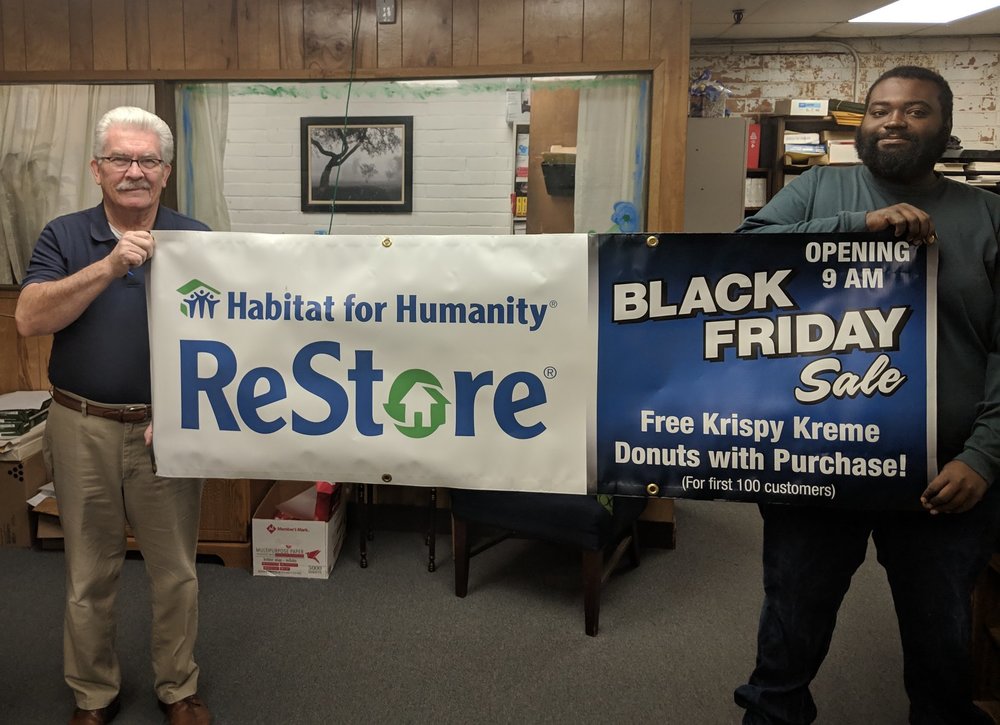 After you are stuffed Thanksgiving pay us a visit to shop and receive FREE Krispy Kreme doughnuts with your $10 purchase at the Darlington Habitat Restore beginning at 9 a.m. Black Friday! Your purchases make a difference and we are thankful for your support! #DarCoHabitat #HartsvilleChamber #DarlingtonCounty #BlackFriday #KrispyKreme #HartsvilleSC #DarlingtonSC
Saturday
SMALL BUSINESS SATURDAY - Remember to shop at locally owned businesses this holiday season! More money circulates back to the community when you purchase goods from an independent retailer versus a chain.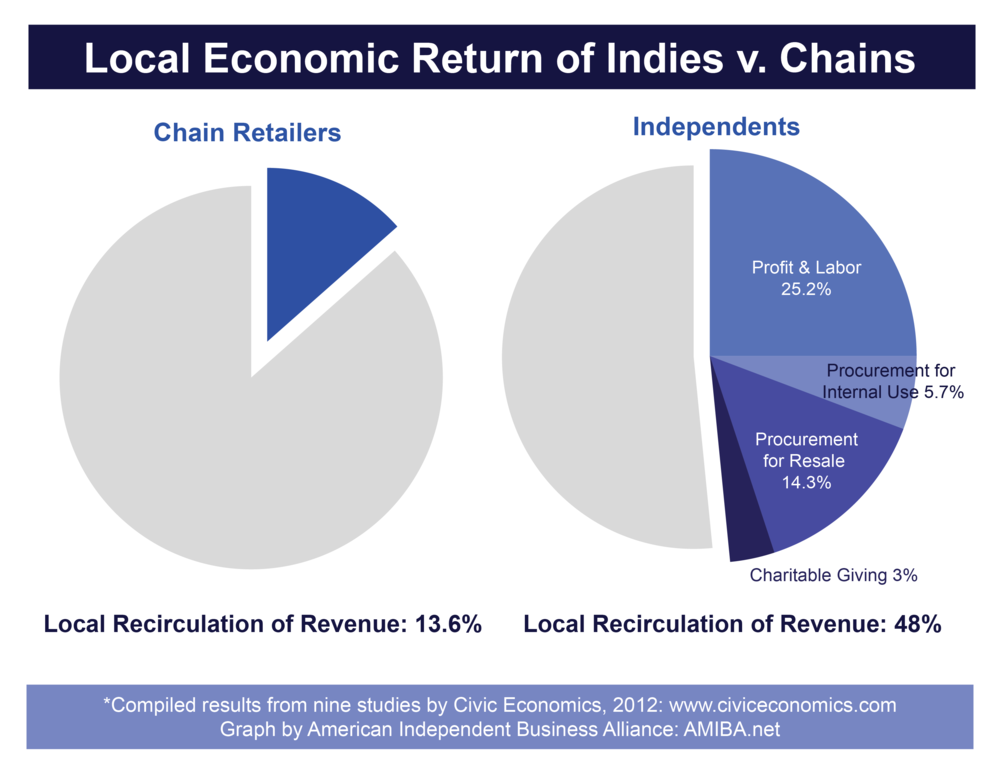 Darlington Country Club opens for a members' breakfast from 7 a.m. to 10:30 a.m. on Saturdays at the club, 125 Country Club Road.
Mayo High School Alumni Association will hold a Special Meeting at 1 p.m. Nov. 30 at the Mayo High School Athletic Hall of Fame.

If you lived in Quinby Estates or Forest, we would love to see you from 6 to 9 p.m. Saturday evening, November 29, at South of Pearl, 117 Edwards Ave., Darlington. Cash bar available.
Sunday
All Hunt Bonz Deli locations inside Fastrack Convenience Stores will be open for breakfast and lunch from 7 a.m. to 2 p.m. Come on out and have breakfast and lunch with us on Lamar Highway, South Main Street, or Hoffmeyer Road.
Darlington County Picklers meet at 4 p.m. Wednesday and Sunday nights at the Bill Cain Tennis Center at the corner of Orange and Liberty Streets. Learn to play and meet new friends.
Recovery/Self Discovery with Susie Bloodworth will be held at 2 p.m. Sundays through Dec. 8 at Black Creek Arts Council, 116 W. College Ave., Hartsville.
HOLIDAY FUN
During the construction happening at Darlington Country Club we have been invaded by 6 mischievous scout elves. These elves are running rampant around the clubhouse, Red Bar, Pro Shop and golf course. They are trying to see which of our members have been naughty or nice and sending reports to the North Pole! We need your help to keep an eye out for these guys and gals. We are going to have a contest to see who can spot the most elves at Darlington Country Club. This contest will be called Elfie. It requires a "selfie" with an Elf... an Elfie! Elfie is for all ages! Mom, Dad, Grandma, Grandpa, and we guess kids can play too! As a reward for your help, we will have a drawing for prizes. Prizes for both adults and children! Remember, Santa is always watching! Here are the rules of Elfie:
If you find an elf or elves (there are 6 elves in total), you must not touch them!! They must remain at their post of the day per Santa's instructions.
Snap a selfie with the elf. You must be in the picture! However, one person per picture.
Post your picture on your Facebook timeline. If your child or someone you know does not have a Facebook, you may post their selfies on a different account. You must tag the Darlington Country Club and include #ElfieDCC2019 for each photo. This will help us track your findings.
Each time you tag a picture with the elf your name will be entered into a drawing for prizes. This cannot be the same picture reposted every day. Only one picture per elf per day. So up to 6 different pictures per person, everyday!
If you are at a Darlington Country Club sponsored event and find an elf at the club- dinner, family night, breakfast, Sunday lunch, gofing, etc. Your name will be entered into the drawing...TWICE!
The drawing will be done at our member's Christmas Drop In at 7 p.m. on December 17. You must be present to win. The elves have to return to the North Pole December 15th to prepare for Christmas Eve. So please have all of your Elfies posted by 5 p.m. Dec. 15.
Mark Your Calendars
Come hear some of your favorite Christmas songs along with a few new ones at Hartsville Community Chorus free Christmas concert at 7 p.m. Dec. 3 at West Hartsville Baptist Church, 1003 W. Carolina Ave., Hartsville! This concert is offered free to the public, though a goodwill donation will be accepted.
Join us in downtown Hartsville for Christmas on Carolina on Thursday evenings from December 5-19. During Christmas on Carolina evenings, Camden Carriage Company will pick up riders on East College Avenue and stroll them through our downtown on a 20-25 minute ride. Carriage rides will be $10 for adults and $5 for children (12 and under); Camden Carriage Company will only be able to accept cash on these evenings. Hartsville's Te'Quan Coe and his violin will fill Carolina Avenue with the sounds of the holidays to top off these perfect holiday nights. For more information, please visit www.HartsvilleForTheHolidays.com or call 843-917-0602.
Arbor Day: The City of Darlington Tree Board and Darlington Garden Club will hold its Annual Arbor Day ceremony at 10 a.m. Friday, Dec. 6, at 1336 S. Main St. Park at CVS and walk to see the seven Yoshino Cherry trees planted in the first phase of the South Main Street Tree Project.
Festival of Trees: The Opening Night Preview Party will be Dec. 6 ($35 per person) with general admission to the show from 10 a.m. to 4 p.m. Dec. 7 and from noon to 4 p.m. Dec. 8 at Black Creek Arts Council, 116 W. College Ave., Hartsville. The trees and wreaths will be auctioned off to raise funds for Black Creek Arts Council's Art Education Program, our most underfunded program.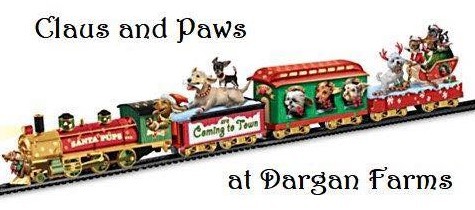 Check out Claws & Paws from 6 to 8 p.m. Dec. 6 at Dargan Farms, 1301 S Charleston Rd, Darlington.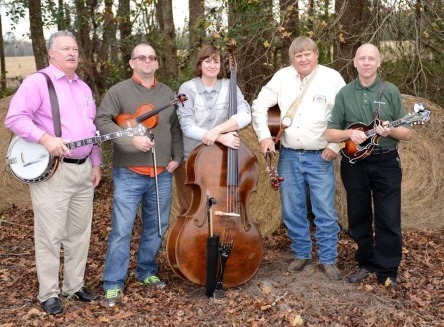 The Southeastern Bluegrass Association of SC SEBGA presents the award-winning Flatland Express in concert on Saturday, Dec. 7, at the Music Hall, 1945 Harry Byrd Hwy, Darlington.Flatland Express is the 2013 Winner of The Little Roy and Lizzy Band Competition, the 2015 Third Place Winner of the South Carolina State Band Competition at RenoFest, the 2016 Third Place Winner of the South Carolina State Band Competition at RenoFest. Doors open at 4 p.m. for jamming and socializing. Also on stage will be our talented local musicians for our 6:30 p.m. set. Admission is $10 for adults, $5 for students, and free for those younger than 12. Info: 843-669-6952
Enjoy Christmas at Medford at 2:30 p.m. Saturday, Dec. 7, at Medford Nursing Center in Darlington.
The DRAF Christmas Banquet will be held at 6 p.m. Saturday, Dec. 7, at Darlington Dragway.
The 251st Annual Christmas Dinner will be held beginning at 10 a.m. Sunday, Dec. 8, at the SC National Guard Armory in Darlington. We welcome the family members of all our Soldiers to come join us on this day to fellowship over a great meal, come see what we have accomplished over the past year, and get to know the 251st.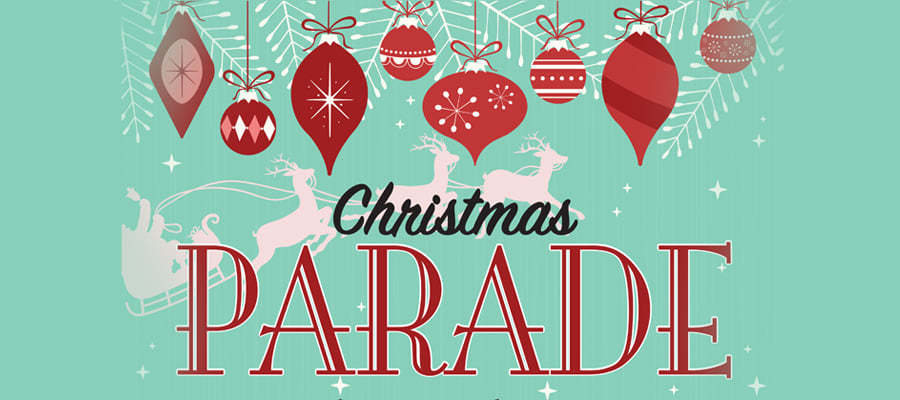 The Darlington Rescue Squad's Annual Christmas Parade will be held at 4 p.m. Sunday, Dec. 8, followed by the Darlington Kiwanis Club's Annual Carol Lighting Service at 6 p.m. Christmas Festival will be held at the Public Square from 4 to 8 p.m. Announcement. Application to be in the Parade. Vendor Application.
You are cordially invited to Share the Holiday Spirit with Kalmia Gardens at the Historic Hart House, c.1820, on December 8 from 3 p.m. to 5 p.m. at Kalmia Gardens, 1624 W. Carolina Ave., Hartsville. The house will be decorated in period style, and there will be light snacks and a visit from Old Saint Nick. Along with the Hart House tour, the Hart Cottage, Jacob Kelley House, AND Hartsville Museum will also be open free of charge.
Levon Kirkland, recently inducted into Clemson's Ring of Honor, will make an appearance, sign autographs, and speak from 6 to 8 p.m. Dec. 10 at Dominion Church in Darlington. Admission $10 for adults and free for children.
The Greater Darlington Chamber of Commerce and Light Up Darlington Christmas Committee will hold Christmas on the Square from 5:30 p.m. to 8 p.m. Saturday, Dec. 14, with shopping, Santa, hot cocoa, and more.
Bring your little ones to the Hartsville Museum for pictures with Santa before the Hartsville Christmas Parade from 9:30 a.m. to 12:30 p.m. Dec. 14 at the museum, 222 N. 5th St, Hartsville. Feel free to bring your own camera for this wonderful photo opportunity.
The 2019 Hartsville Christmas Parade will take place at 3 p.m. Saturday, Dec. 14. To register to participate in the 2019 Hartsville Christmas Parade, visit this link.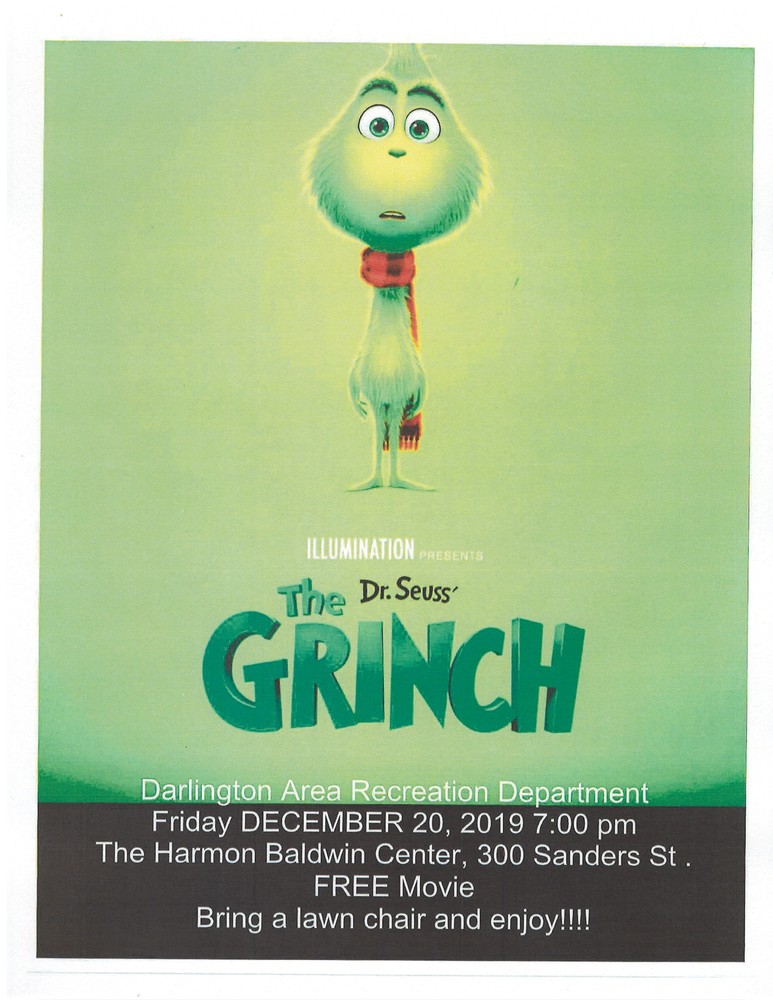 Free showing of Dr. Suess' The Grinch at 7 p.m. Friday, Dec. 20, at Harmon Baldwin Recreation Center, 300 Sanders St. Bring a lawn chair and enjoy!
Featuring the Columbia City Ballet, the Nutcracker Ballet will be performed at 7:30 p.m. Dec. 20 at The Center Theater, 212 N 5th St, Hartsville. Purchase tickets online or call the box office at 843-332-5721 for special seating.
Become a Member!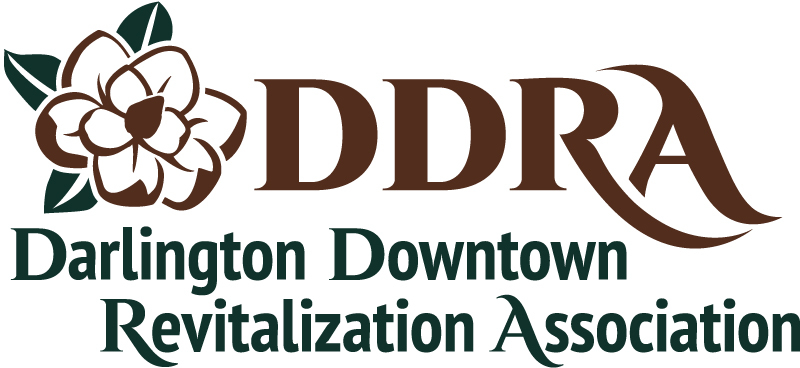 Join the DDRA and show your support for our community. Download the Membership Application here. Members can share news about your business or organization by giving us a call, 843-992-1561, or sending us an email, info@buildupdarlington.org, and we will feature yours news on our site and distribute it through our News Alert system via text and email to people interested in Darlington as well as TV stations, radio stations, and newspapers. We can come take a photo or use what you already have. This allows you to share employee recognitions, new products, sales, special hours and events, and more - all as a benefit of being a member of the Darlington Downtown Revitalization Association!
If you are already a member, please make sure to submit any updates to your businesses' Map Location Form to info@buildupdarlington.org.
To have your event listed on our websites, please email info@buildupdarlington.org or call 843-398-4000 x 103 by the week prior to your event.