10/24/2019
Celebrate Halloween TODAY 4:30-6 pm
The Darlington Area Recreation Department and the Darlington Downtown Revitalization Association (DDRA) will offer children a downtown Trick-or-Treat experience from 4:30 p.m. to 6 p.m. TODAY at the Public Square in Darlington.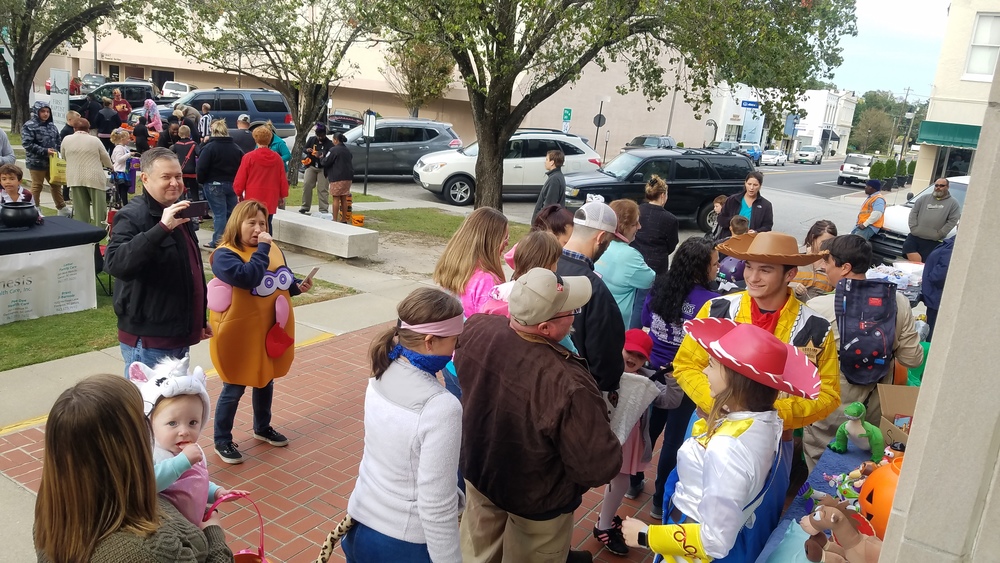 Employees of area businesses will be handing out treats to costumed children, and some will be dressed in costumes themselves.
"We want to make this one huge Halloween event for everyone in Darlington," says Lisa Chalian-Rock, executive director of the DDRA.
Other locating booths on the courthouse grounds have included Darlington Fire Department, Darlington Police Department, Darlington County Sheriff's Office, South Carolina State Government Juvenile Justice SC Department of DJJ, Temple Free Will Baptist Church, First Church of God Darlington, Darlington Downtown Revitalization Association, Housing Authority of Darlington, Darlington County Library System, Pee Dee Electric Cooperative, South Carolina, Dedicated Community Bank, Genesis Healthcare, Darlington County First Steps, First Free Will Baptist Churc of Darlington, and Mont Clare Baptist Church.
"It's exciting to see this event grow over the last three years. We have had such great response from all the businesses and from the community as a whole. From the courthouse, we just saw costumes streaming along the sidewalks there were so many kids."
The free event provides a safe environment for children to trick-or-treat as well as giving businesses an opportunity to show their community support and open their doors to new potential customers.
Those participating will have a Halloween ribbon by the door, and most are on the Public Square and one block out on Pearl, Cashua, and South Main Streets, including Freedom Management Solutions, Luna's Closet, Wilson Senior Care, Vaughan Insurance, McLean Marechal Insurance - Nationwide Insurance, Chianti's Wings and Things, Mamma Mia Darlington, Tenampa Mexican Restaurant, Security Finance, Howle Law Firm, Carolina Drug Store, Jewelers Bench, Fahrenheit 225, Purpose To Live Ministry, Merle Norman, Darlington Rescue Squad, Greater Darlington Chamber, Out of this World Screen Printing LLC, and more.
The Public Square will be closed to traffic beginning at 4 o'clock for the safety of the children.
Regular trick-or-treat hours in the City will be from 6 to 8 p.m. on October 31.
For information, call 843-398-4000 x 103, 843-992-1561, or843-398-4030. You also may email info@buildupdarlington.org.