09/05/2019
Hurricane Dorian briefing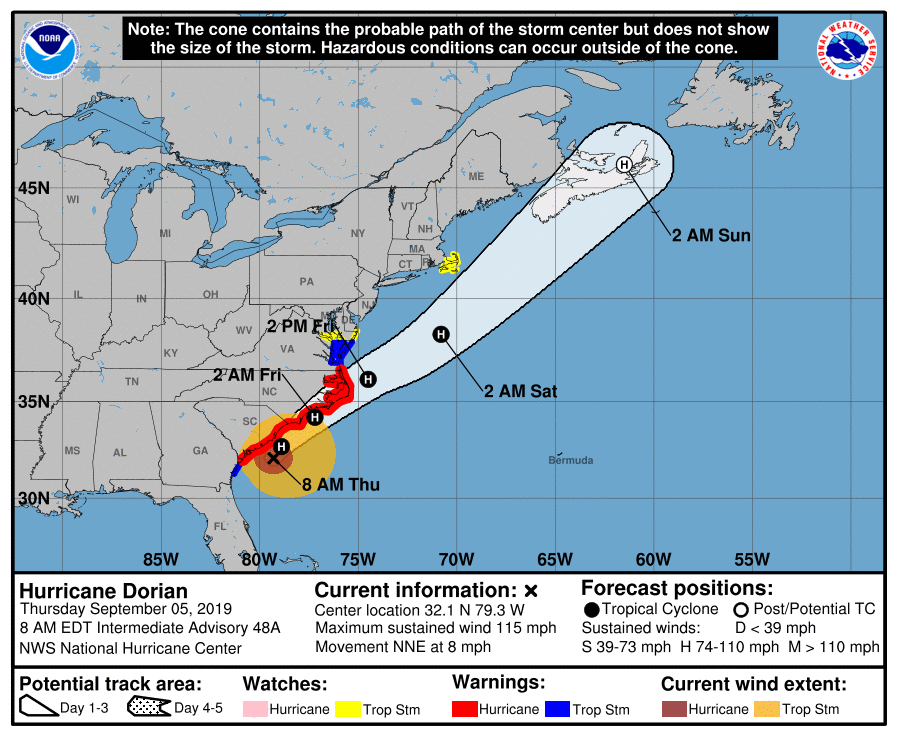 Tropical Storm force winds are likely, with hurricane force winds expected along the coast. The storm's closest approach will be later this afternoon through tonight & Dorian will bring a variety of impacts to the area. Power outages, downed trees, and some structural damage becoming more likely, especially closer to the coast.
The risk for storm surge is increasing with the greatest risk with through tonight. However, the amount of inundation is highly dependent on the tide cycle and the storm's track.

Life threatening flash flooding is likely, especially today through tonight,

with 10 to 15 inches expected along coastal areas. Isolated higher amounts are also possible. People that live along rivers should be prepared for minor to moderate flooding, especially rivers closer to the coast. Driving will become dangerous as there may be road failures or roads covered with deep water.
Isolated tornadoes possible today.
Read the full 7 a.m. briefing from the National Weather Service, Wilmington, NC, office here.
Who Do I Call During & After the Storm?
For water and sewer issues, call the after-hours number at 843-758-1127.
For streets blocked by trees, report to 911.
For downed power lines or outages, call 1-800-769-3766 for Duke Energy customers, or call 1-800-693-0190 for Pee Dee Electric customers.
For issues with natural gas lines, call 1-888-333-4465.
For all other emergencies (medical, fire, and police), please call 911.