07/17/2019
Rick Strickland Band 10th anniversary tour stops in Darlington next week
The Rick Strickland Band 10th anniversary tour stops in Darlington next week, Thursday, July 25!
Everyone is invited to come out to the Cruise In and Bringing Downtown Alive! Concert downtown from 7 to 10 p.m. Thursday on Pearl Street and Liberty Lane. Free admission. Cruise In provided by the Darlington Cruisers. Free Pepsi products thanks to Pepsi of Florence. Other sponsors include the City of Darlington; Wilson Senior Care; and Cumulus Broadcasting Radio Stations, The Fox 102.1, Magic 94.3, The Fan 100.1, and Q100.5.
Well known for excellence in songwriting, singing, musical artistry, originality and high energy performances, The Rick Strickland Band captivates audiences of all ages with feel good music that speaks to the heart. The heartbeat of RSB features the awarding winning music and showmanship of Myrtle Beach based singers, songwriters, & entertainers Rick Strickland and Lesa Hudson – originally a Darlington girl – and their arsenal of No. 1 Beach & Shag music radio hits including: Something Smooth, So Do I, One Step Closer, She Can't Fix Grits, Party Til The Break Of Dawn, Bubba White, and more recent hits Every Now And Then, I'm Hungover, When You Look At Me, Amazingly Amazing, Get Your Feet On The Floor and so many more! But RSB is far from the typical "beach band." Their impressive original song playlist covers the gamut in musical styles including Classic R&B Soul, Classic Rock, old school Funk, and a splash of Country, guaranteed to please audiences of all preferences! Their unique styles, passion for music and winning personalities sets them apart from the rest. Rick & Lesa are recipients of 19 Carolina Beach Music Awards (CBMA) and have been recognized with over 120 CBMA nominations for their musical contributions to the music industry. Additionally, Lesa is a four-time nominee in the Inspirational Country Awards held annually in Nashville, Tenn.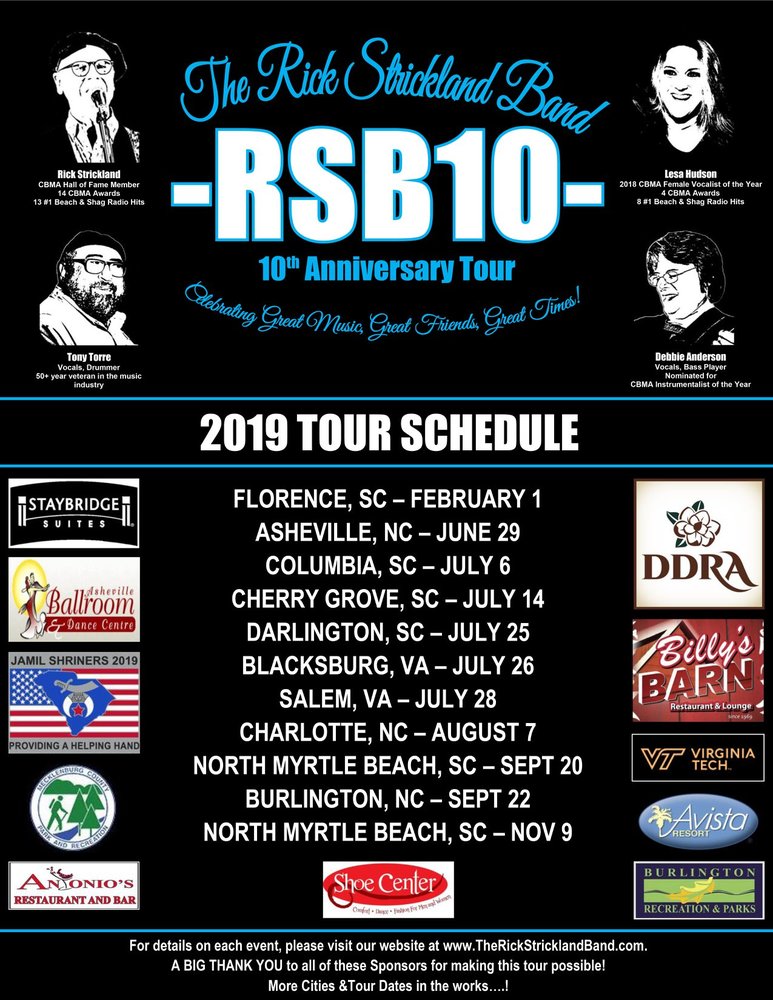 The Rick Strickland Band is revered as one of the top bands in the industry and is proudly distinguished as the only band in the market to successfully compose, produce and perform 100% of their own original music. The band boasts an impressive collective resume having performed with international recording acts including Billy Joe Royal, The Drifters, Joe South, The Shirelles and Ray Stevens, and have performed at some of the nation's most legendary venues.